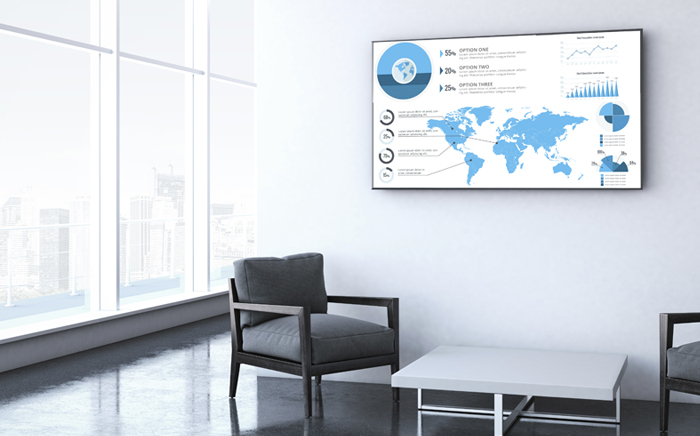 Corporate communication digital signage application
Digital Signage for Corporate
Keep your team updated and informed with IAdea's digital signage solutions for corporate communication. Having information conveniently displayed throughout your corporate office will allow you to effectively communicate team goals, important company announcements and achievements. Digital signage is an effective solution for corporate offices of all sizes. From small table-top displays to digital room scheduling signage and even exquisite LFDs, IAdea's digital signage solutions are the answer to all your corporate communication needs. Encourage and excite your team by immediately display accolades and exciting announcements in a matter of minutes and easily post employee schedules and company goals with dynamic employee facing digital displays. ­
Room In Use Scheduling
With IAdea's digital signage solution you can effectively schedule the use of conference rooms. Easily display schedules for current and upcoming meetings in each meeting room. LED light bars on the side of the screens can even change color to quickly communicate if a room is currently in use or available. Management of the content is simple and can be remotely updated at any time.
Use our XDS-1078 for your kiosk information displays
Employee Announcements Made Easy
Keeping your team in the know has never been so easy. Update your digital message board with important company announcements and achievements quickly and easily with IAdea's solution. Digital employee facing announcement displays eliminates the need to create and print each announcement and is an environmentally friendly way to educate your team.
Use our XDS-2170 for your company communication displays
Additional implementation options include
Welcome announcements

Daily events

Onsite image display

Special events

Employee schedule display

Daily goal tracking display

Current project status display

Social Media posts

Fun fact display

And more..
Change Me
IAdea will bring innovation and flexibility to your corporate office. The device offers remote management and update capabilities, as well as easy and cost efficient installation with PoE (power-over-Ethernet). They are built to last with self-cooling mechanisms and the capacity to remotely schedule screen times. The screen can be split to display multiple types of information simultaneously. For more information about products and how a digital signage solution can benefit your corporate office, please visit IAdea at www.IAdea.com