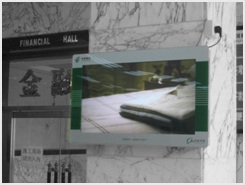 Background
IAdea has been providing digital signage equipment to the China Post Media company, who is commissioned by the China Post Office to install and operate 1 to 4 displays in each of China's 71,000 post offices. The network is given the mission to turn each post office into a convenience store that serves the need of 1.3 billion people, many of whom live in geographically isolated areas where the typical commercial chain stores cannot reach.
In addition to providing typical postal services at its service locations, the China Post Office is expanding to distribute items including seasonal food, gifts, nutrition supplements, tickets, phone cards, etc. The concept is to utilize the existing postal delivery infrastructure to deliver additional goods and services to enrich the lives of the citizens, especially those living in remote rural areas where the current standard of living is a small fraction of that in the costal cities. The project, if successful, will help raise the life quality of the currently deserted towns.
As part of the plan, digital signage systems are planned from the very beginning to utilize existing satellite communications infrastructure first built for delivering tele-text to transmit moving images. The screen are to display sales promotion information as well as welfare messages from the government.
Requirements
The following criteria for the player functions must be met:
Play high-definition MPEG videos and JPEGs
Be compact enough to integrate into displays and withstand the heat from the screen
Provide a network-programmable API for integration with a back-end management system, supporting features including:

Multi-zone screen partitioning
Scheduling video loops by different day-of-week and hour-of-day
File transfer via HTTP, supporting player authentication
Media file inventory report
Play log reporting
Health status reporting
Remote firmware update

Be robust enough to operate in poor network conditions, such as intermittent connections and extremely low bandwidth
Be robust enough to withstand unexpected power loss
Designed to operate 24×7 continuously without human intervention
Solid-state storage, fanless
Must be Linux-based (mainly for security concerns)
Solution
IAdea's high definition media players are selected for the project. Integration with a 32" display was completed by Rong-guan, the systems integration house. Integration with back-end management software is done by the China Post Media company using the API provided by IAdea.
The first pilot of 1,000 units have been rolled out in 500 post offices in Beijing over the past two years. Several test units are also sent to remote locations in mountainous regions reachable only over satellite connections, running at 64Kbps and often unreliable. IAdea players are found to be very dependable even in rough communication conditions.
The pilot phase tests 1,000 screens physically installed. In addition, a simulation for 142,000 players (average 2 players per location, in 71,000 post offices) was conducted with a load-balancing, fault-tolerant server farm backend. The evaluation proved that IAdea's media player is capable of managing bandwidth intelligently to scale without technical limitation.
Summary
China Post Media sums up the network in the following presentation:
Translation: the China Post Media network spans 71,000 post offices and 260,000 rural service kiosks, with video terminals interconnected using state-of-the-art telecommunications technology for remote management. The network targets the general population, especially in the rural areas, for advertising, promoting government policy, and improving social welfare.