[fusion_text][fusion_text]Scala > Driving more than 500,000 displays worldwide, Scala is the leading digital signage software vendor. IAdea's complete line of players can be managed via Scala Content Manager for large-scale deployments. Visit scala.com for more information.
IAdea is the first company in the world to provide Scala customers with cost effective dedicated "Scala Enabled" media appliances that are very simple to deploy and easily connect to a Scala network. Media appliances, as opposed to general purpose PCs, are plug-and-play for ease of use and outstanding reliability. They are 100% solid-state, fanless, and low-power, giving them better MTBF (mean-time before failure) than the typical consumer-grade equipment, thereby reducing the TCO (total cost of ownership). Hardware-based multimedia decoding yields guaranteed video decoding up to Full 1080p HD, ensuring customer's brand and image is displayed without compromise.
Want to learn more about Scala and IAdea past joint projects?  Click here for our case study brochure!
Read how IAdea complements Scala solutions.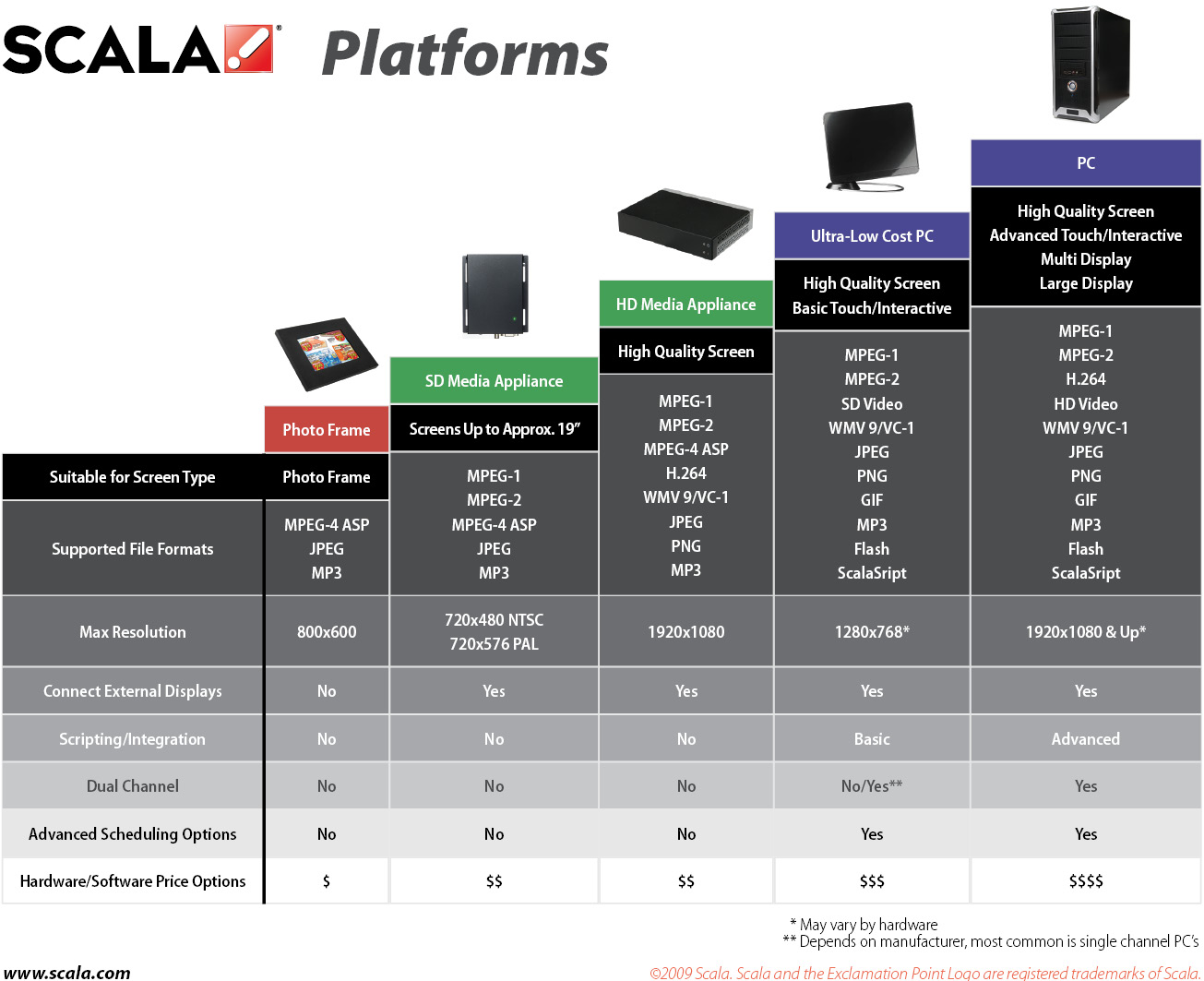 Live video-in
FHD Wireless Media Player
FHD Solid-State Media Player
FHD Live Media Player
UHD 4K Media Player
10.1″ Smart Touch Signboard
21.5″ Smart Signboard
MODEL NAME
MBR-1100
XMP-6250
XMP-6400
XMP-7300
XDS-1078
XDS-2170
DISPLAY
HDMI, 1080p
HDMI, 1080p
HDMI, 1080p
HDMI, 4K
HDMI, 1280 x 800
HDMI, 1080p
MEDIA PLAYBACK
H.264
HTML5
H.264
HTML5
H.264
HTML5
H.265
HTML5
4K/60Hz
H.264
HTML5
H.264
HTML5
SCALA PLAYER LICENSE
Yes
Yes
Yes
Yes
Yes
Yes
FIRMWARE VERSION
1.2.60
1.2.59
1.2.59
1.0.3
1.2.62
1.2.61
Note:
1.  Live HDTV-in and RS 322 communication with industrial display is now possible on the XMP-6400 model through a widget. Please contact IAdea or visit the IAdea Support Site for more details.
2 . Check SCALA website for more certified information.//docs.scala.com/display/P1101/KitKat+%284.4%29+Version+Players
Further Readings
[/fusion_text]