IAdea
TAIPEI, Taiwan. April 28, 2017. Kuo-Kuang Motor Transport, or in another name, King Bus, is [...]
IAdea
TAIPEI, Taiwan. May 23, 2017 – IAdea, a leader in digital signage media players, smart [...]
IAdea
TAIPEI, Taiwan. April 6, 2017 – IAdea, leader in digital signage media players, smart signboards, and [...]
Media players, smart signboards, compatible with 3rd-party software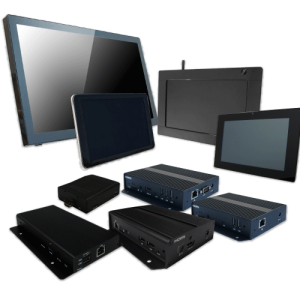 IAdea provides high-quality, end-to-end solutions for deployments of all scales
From 4K video to animated HTML5 and interactive touch screens, IAdea provides the right media players and smart signboards to answer any needs. Our innovative technology provides not only a stable platform for your signage but also generates data and analytics data to confirm your ROI for success. As a reliable, cost-effective product with a long lifespan, it is no wonder that our state-of-the-art products have consistently voted #1 by industry leaders.

Reliable Hardware
Start with a solid foundation. Built upon a time-tested and stable platform, IAdea devices deliver premium reliability and peace of mind. Our devices are built for continuous usage employing the efforts of a self-recovery mechanism, fanless cooling system and an extended shelf life to ensure your investment is protected.

Superb Quality
Only accept the best. Every aspect of hardware design is scrutinized and every component is checked to ensure the highest quality. We know our players must be rock solid and be the last thing you worry about. We strive to be the best and hold ourselves to the highest standards in everything we do. We also work hard to build products that fit your budget

Innovative Solutions
Always move forward. Being one of the forerunners of the industry, IAdea is constantly improving, refining and creating new ways to push the envelope with our media players and Signboards. By paving the road for the industry, we are never stuck trying to catch up.
WHERE TO BUY?
IAdea powers over 150,000+ displays worldwide!
You can buy IAdea products from a wide range of resellers and distributors.
WHERE TO BUY?