Planon and IAdea launch Remote Room Panel Management Service to Optimize Meeting Room Management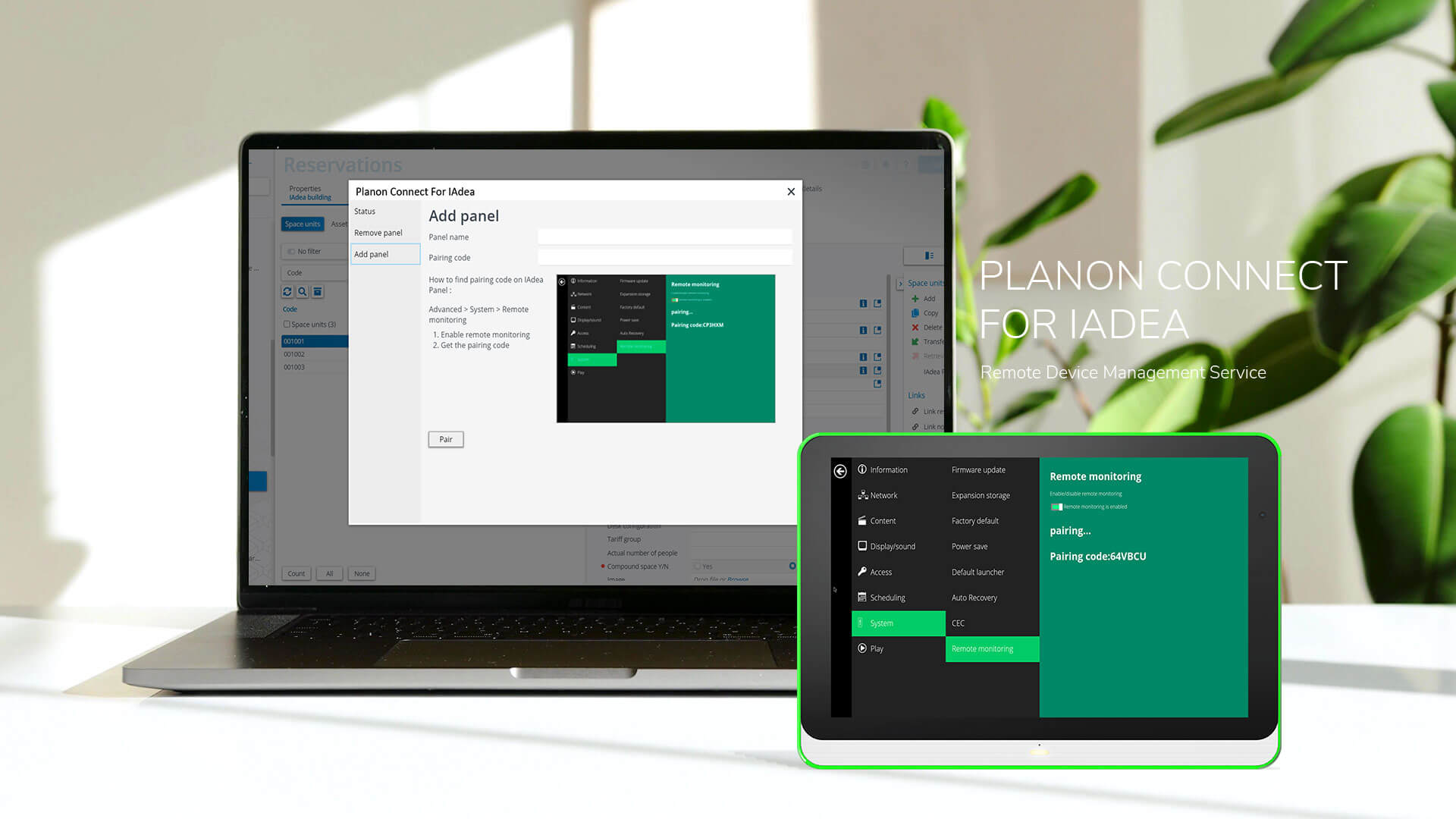 Nijmegen, Netherlands / Irvine, United States, June 3, 2021 – Planon and IAdea have announced the launch of Planon Connect for IAdea –  a new remote room-booking display technology – available within Planon's market-leading Integrated Workplace Management System (IWMS).
The new solution offers IAdea's user-friendly and expertly designed visual interface for booking rooms, checking in and out, and viewing room occupancy data. Accessible through the Planon IWMS platform, administrators can set up, monitor, and schedule panels for greater energy savings and for centralised control.
"We're thrilled to announce this enhancement to our integration with Planon," says John Wang, CEO, IAdea Corporation. "This ongoing partnership will allow us to refine our offerings to enterprise customers, cementing trust with a proven solution that solves real-world facilities management challenges."
"Organizations seek out Planon's software to optimize their space and workplace management processes," said Pierre Guelen, Planon's Founder and CEO. "With IAdea's integrated meeting room panels, we can offer our clients a great new way to professionalize their meeting room management with a visually appealing interface for room bookings. Planon Connect for IAdea enables facilities staff to easily manage these panels while their organisations benefit from a highly user-friendly and intuitive interface for room booking, checking in/out, and viewing occupancy."
About IAdea
Founded in 2000, IAdea is an award-winning leader in enterprise-grade digital signage systems with products ranging from room management panels, desk booking devices, signage players, to device management software. IAdea currently powers 500,000 displays globally with the majority of deployments in corporate workplaces, public transit, and retail applications. System integrators and enterprise users rely on IAdea's robust and secure joint solution to increase operational productivity and improve user experience.
Contact us
Sabrina Tang
About Planon
Planon is the leading global provider of Real Estate and Facility Management software that enables building and service digitalization by integrating the diverse landscape of smart building technology, business solutions and data into one source of truth and turning that into value for building owners, building users, and service providers. Independent market research and consulting firms have consistently rated Planon as a global leader in the market. Planon has implemented its comprehensive solutions for more than 2,500 clients, supported by offices and partners around the world.
Contact us
Maike Theunisse