Remote Device Management
IAdeaCare
Monitor Mission-Critical IT, Analyze Usage, and Prevent Failures.
Get Started For Free!
Explore the benefits of remotely monitoring and completing device configurations to reduce overstretching of admin resources, unexpected device downtime, and disruption during office hours.
We'll Show You How Remote Device Management is Done
IAdeacare is comprehensive device management for all deployed IAdea devices, including essential tools for deployment, management, ongoing maintenance, and troubleshooting. IAdeacare consolidates operational data from all your devices into a single intuitive interface for in-depth analysis or quick at-a-glance viewing.
Accelerate deployments, reduce or automate management tasks, cut downtime with preventative maintenance, and streamline troubleshooting.
Large enterprises and educational institutions utilize IAdeaCare daily for water-tight management and optimization of networks ranging from a handful of devices all the way to mass deployments.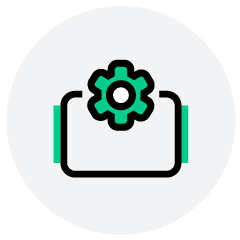 Device Provisioning and Administration
Remotely administer essential device controls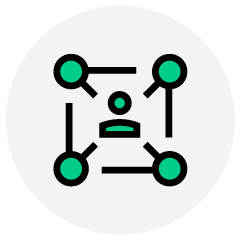 Device Intelligence and Analytics
Overview of all in-service devices' health and licenses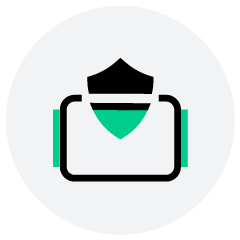 Device Access Control and Security
Centrally enforce device policies and track alerts
Remote Device Diagnostic and Configuration
Running from device to device to make system configurations is so 2000s. Comfortably sit in your office chair while scheduling maintenance tasks, assigning device, network, and policy details, taking playback screenshots, and rolling out silent updates across multiple devices. Whether a small local firm or a global enterprise, IAdeaCare enables device managers to communicate with all in-service devices, in batches, through a web-based platform.
Device Health Rundown and Contract Management
Keeping tabs on every in-service device — both locally and remotely — can be a hassle without the right monitoring tools. IAdeaCare can help businesses avoid disruptions to workplace operations due to black screens by
Displaying device playback screenshot in grid view
An overview of the device network and license status to proactively notify device managers of malfunctions.
Businesses also have the option of generating periodic field reports as a convenient tool to keep tabs on all IAdea devices.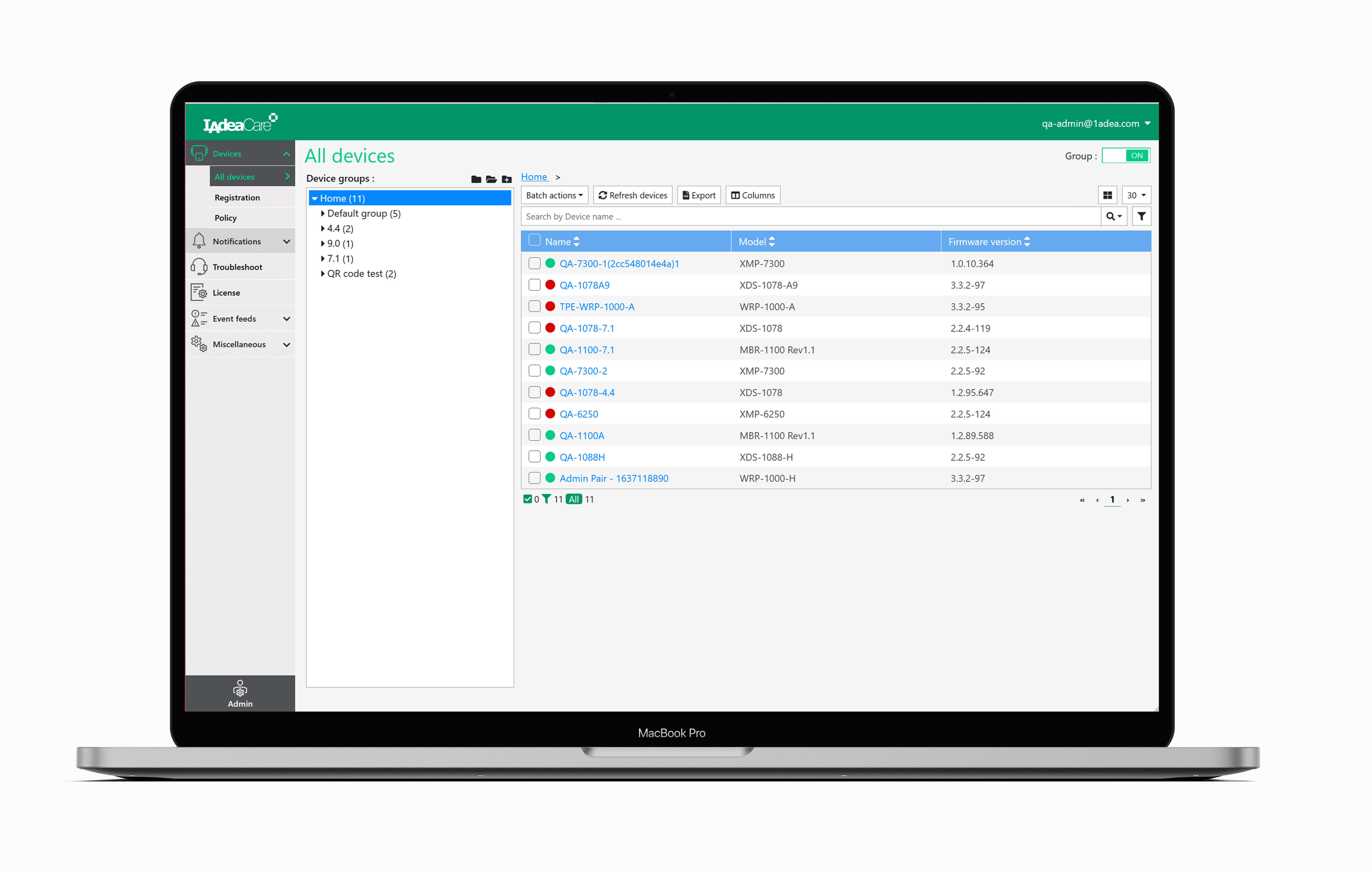 Central Admin Regulation and Notification
As mission-critical tools to business operations, in-service IAdea devices require protection against unauthorized breaches into the enterprise network and access to company data. IAdeaCare enables device managers to set and change device passwords and pin apps to the screen to preserve device integrity and keep data confidential. Device managers can establish alert rules to receive notifications when devices are detected as offline and take immediate action to resolve device malfunctions.  
IAdeaCare Enterprise Account
Remote Device Management that Keeps Pace with Organization Growth
Upgrade to an Enterprise account in 3 simple steps and gain access to a myriad of essential enterprise-exclusive features, including clearly defined admin roles and permissions, streamlined troubleshooting, and enhanced remote capabilities.
Enterprise Account Features:
Role-based administration
Single Sign On (SSO)
Group-based policy management
Granular permissions and account security
UI branding and customization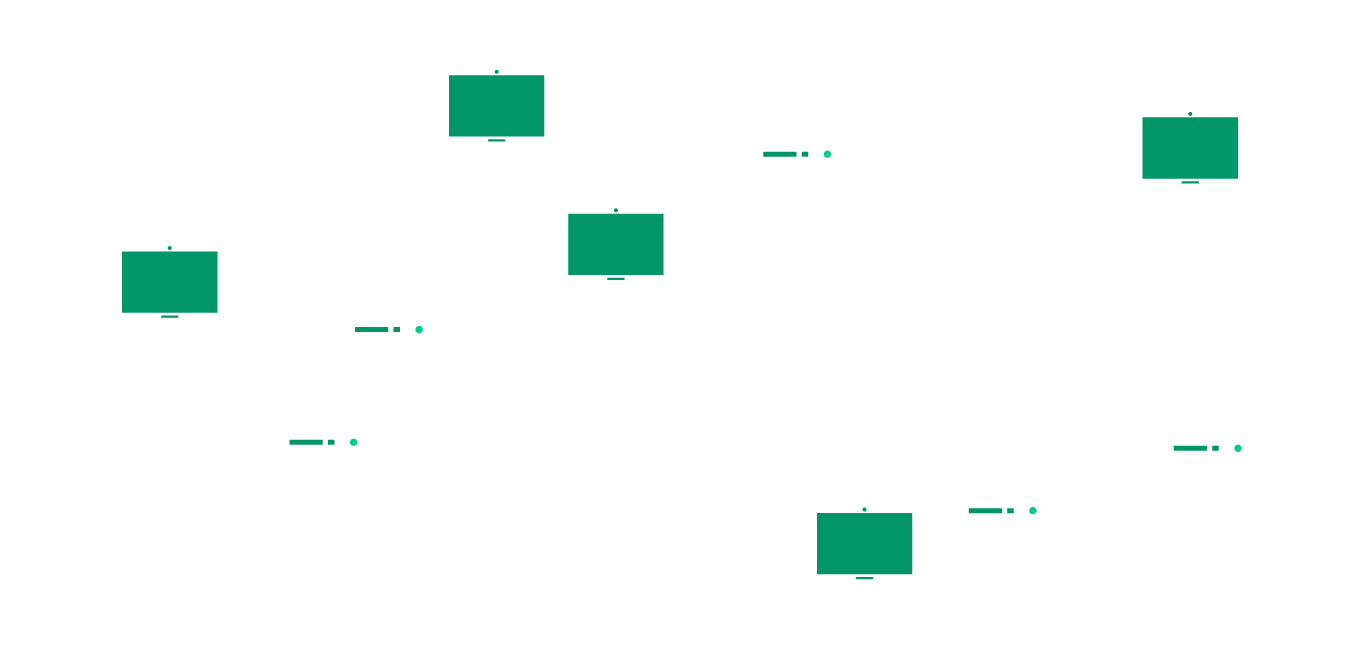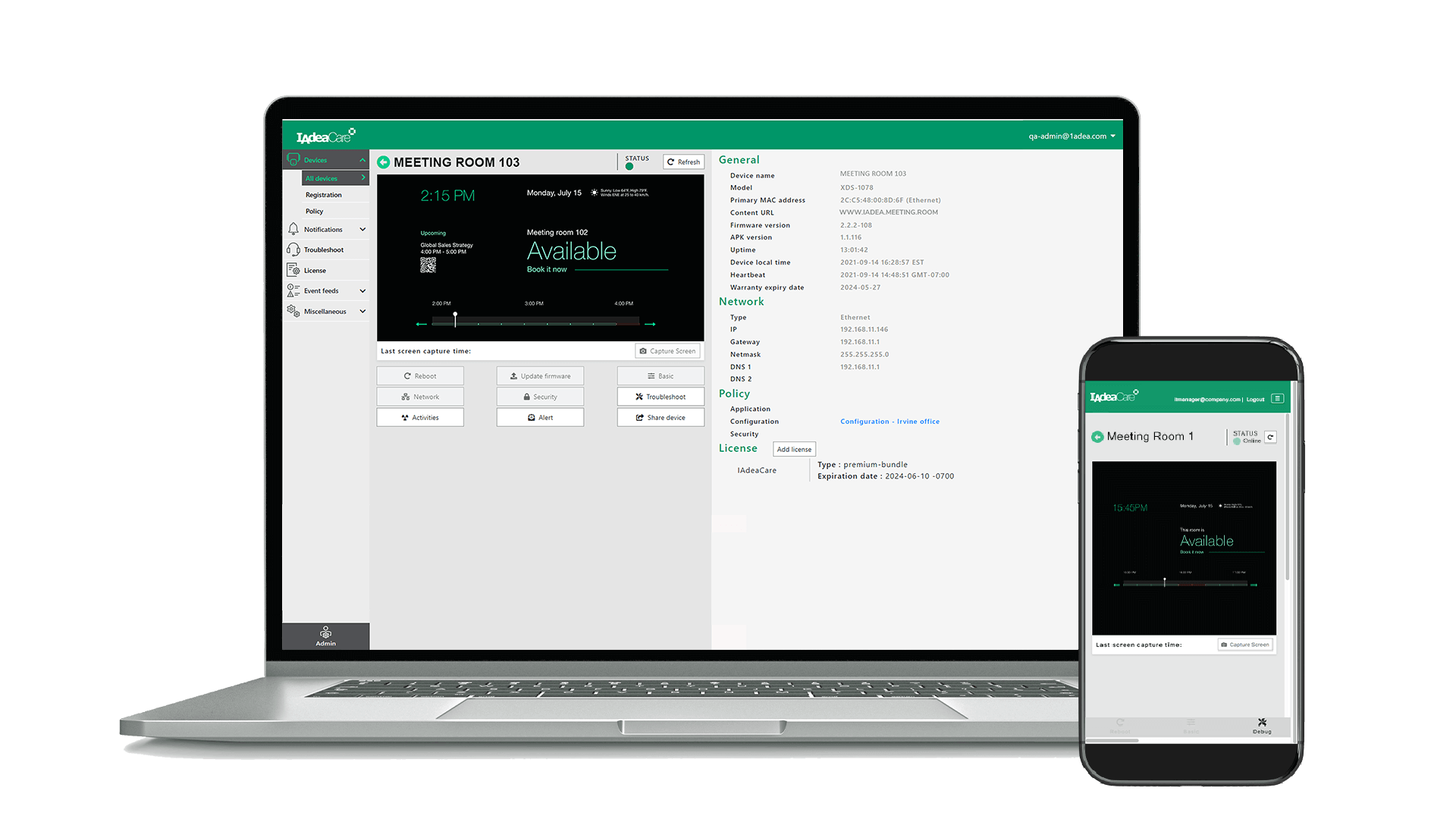 IAdeaCare Accounts and Features
IAdeaCare Device License Comparison
Setting
Description
Functions
Standard
Premium

Device Provisioning and Administration

Essential device administration controls
Configure individual device identity and network setting, generate support tickets, update system firmware locally

Local device configuration: name, application URL, output orientation, time zone and schedule daily reboot

Device online status

Delayed screenshot

Local firmware updates

Device list filtering

Device registration and pairing

•

•

Device grouping and batch administration with filter functions
Group devices for easier management or use filters to quickly find devices

Custom device groups creation

Device list filtering

•

•

Default configuration for device and device groups
One-step device enlisting process enables easier management over large groups of devices

Automatically apply group policies and configurations to associated devices

•

Full control over IAdeaCare deployment
Execute silent rollouts for IAdeaCare to minimize disruption during operation

Account-based device activity overview

IAdeaCare policy updates

•

Remote device diagnostics
Audit device performance, connectivity, health issues, playback screenshot, and perform basic troubleshooting

Real-time display screenshots

Remote firmware update

Daily reboot scheduling

Remote device configuration

Device log retrieval

Firmware upgrade scheduling

•

Device power routine policy
Preventive maintenance program that prolongs device life span and promotes green workplace

Display on/off scheduling

•

Device maintenance
Execute device updates with minimal disruption

Automatic device maintenance screen

•

Device Intelligence and Analytics

Device inventory and license management
Device license and warranty information

Device warranty information

Device license management

Device list

•

Device health analytics and troubleshooting
Set policies and procedures to generate periodic device status reports. Reduce diagnostic time and optimize uptime

One-click status report and troubleshooting

Device and user activity logs auditing

Device heartbeat

•

•

Device Access Control and Security

Central management of device local access control
Features and tools to preserve device integrity and confidential data

Admin password setup

Daily administrator password changes

Unauthorized device and content updates via USB port prevention

REST API access restriction

•

Alerts
Define triggers for email alerts

•
IAdeaCare Account Comparison
Feature
Description
Functions
Standard
Enterprise

Device Provisioning and Administration

IAdeaCare deployment
Execute silent rollouts of IAdeaCare to minimize disruption
Pre-deployment configuration (Zero Touch Deployment)

•

Role-based admin (🔥 new)
Centrally define and manage permissions and access of users

Add and remove users and their permissions

Assignment of device groups to user groups

Define user roles (Administrator/Editor/Viewer)

•

Third party app management (🔥 new)
Multi-platform app management from a single portal
Remote distribution, management and tracking of apps

•

Device Access Control and Security

SCEP Support (🔥 new)
Streamline the certificate enrollment process of managed devices
Automatic certificate issuance

•

Single Sign On (SSO) (🔥 new)
Access all applications after logging in once
SSO integration with Azure AD

•

Others

Branded experience (🔥 new)
Add your company's logo to the software and modify interface background

•

Additional users
Add other users, including administrators, editors and viewers

'Administrator' or' Editor' users: unlimited, priced per additional user

'Viewer' users: up to 50

•
Let's Get Started
Bulletproof your device infrastructure

 with IAdeaCare

!