Anders + Kern further strengthens its UK portfolio and Digital workplace offering with IAdea
Anders + Kern further strengthens its UK portfolio and Digital workplace offering with IAdea bundled Space Connect desk booking system for hot-desking and desk-hoteling.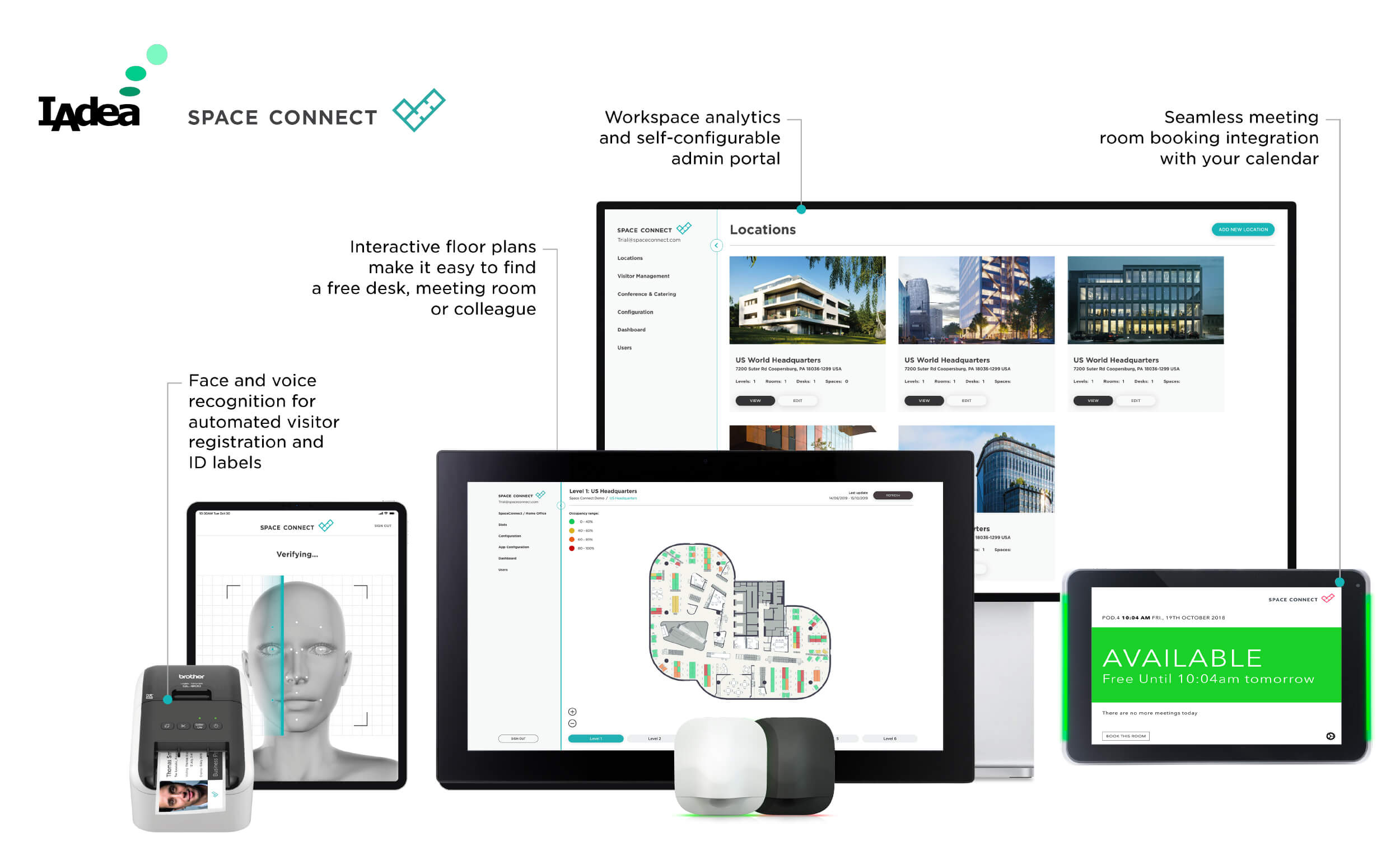 IAdea is eager to announce a distribution agreement with Anders+ Kern, a leading distributor of meeting room booking systems now provides a full digital workplace solution. Together, IAdea and Anders+Kern will offer a fully configurable, end-to-end workplace management solution through bundling IAdea hardware and Space Connect software.
Anders+Kern will be distributing the complete lineup of the IAdea facility management portfolio, including 10″ meeting room booking panel, 15″ executive room management panel, 22″ reception kiosk, and the upcoming desk booking device series designed for desk-hoteling and hot-desking in the modern workplace. In addition to enterprise-grade room panels, Anders+Kern is also adding the IAdea signage player series into their product portfolio. All IAdea devices from Anders+Kern are compatible with IAdea remote device management solution. For more details, contact an Anders+ Kern sales representative.
Anders+Kern has also announced a distribution agreement with Space Connect as an authorized distributor for all Space Connect products in the UK. Space Connect's cloud-based software can help businesses of all sizes optimize the workplace experience, including meeting room booking management, desk reservation and booking automation, and visitor management. Users can deploy Space Connect for additional applications such as web-based administration portal, mobile application, meeting room display application, desk monitor application, space finder or wayfinding application, visitor management application, outlook plug-in, and data analytics.
"I am delighted to announce that we have signed a UK distribution agreement with IAdea. A recognized pioneer in the signage market and manufacturer of leading tech product including meeting room display panels and launching soon, an exciting product for desk management. This agreement further strengthens our position as a key Digital Workspace solution supplier to our channel partners and is a great choice to compliment the Space Connect workplace software solution." Steven Black, Managing Director at Anders + Kern. "IAdea continues to expand our global channel footprint with the addition of Anders+Kern as a specialized distributor for the smart workplace space. We look forward to better servicing market needs with the depth of knowledge of our partner and their integrated solutions offering including the Space Connect room booking software."
About IAdea
Founded in 2000, IAdea is an award-winning leader in enterprise-grade digital signage systems. IAdea's products include media players, all-in-one smart signboards, infinite video wall technology and device management software. With a strong Research and Development team in-house, IAdea's trusted solutions have been deployed throughout corporate workplace, public transit and retail, powering more than 300,000 digital displays on a global scale.
As an industry-leading advocate of digital signage open platform, IAdea works tirelessly to ensure devices are seamlessly integrated with third-party software providers on the market, offering system integrators from all vertical markets proven robustness and lowered total cost of ownership (TCO). With offices worldwide, IAdea provides uninterrupted customer service across the world. For more information, visit www.IAdea.com.
About Anders + Kern UK
Anders+Kern UK Ltd is a leading Digital Workplace distributor and audio visual channel integration partner based in Suffolk, UK. Founded in 1989, we are specialists in AV, digital signage, Sensors, room and desk management/booking systems, visitor management and data analytics.
To inspire with innovation and simplicity, the Distributor of choice for IoT & workspace software solutions, championing ''best in class'' through quality service & support.' For more information, visit www.Anders-Kern.co.uk.
Source: Digital Signage Today