IAdeaCare New Features Just Made Remote Device Management Even Smarter and Bi-Modal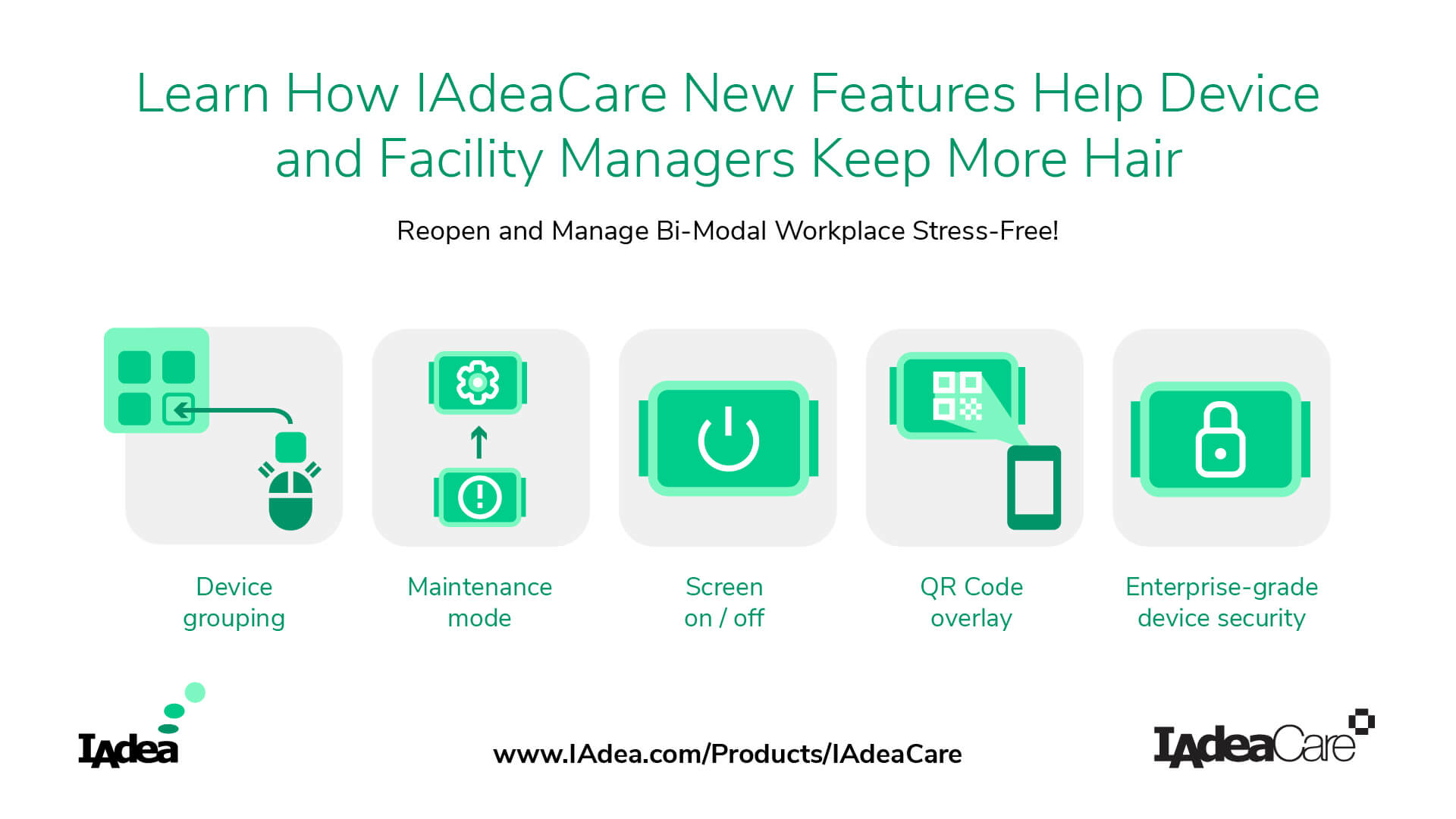 Nov. 19, 2020
IAdea is excited to announce IAdeaCare, its industry-leading remote device management software, just got upgraded with new features! Customers can monitor, track, and govern in-service IAdea devices more efficiently through essential device manager functions such as device grouping, maintenance mode, screen on/off, QR Code overlay, and enterprise-grade security device protection. IAdeaCare is ready to help businesses embrace the bi-modal workstyle and get their workforce back into the office safely.
With the new device grouping feature in IAdeaCare, management can organize devices into groups based on preferences like location, time zone, device type, and application. To make managing groups even more effortless, IAdeaCare enables the devices newly assigned to a group to acquire the joined group's default device values automatically, saving time on the tedious configuration process. Paired with the existing filter function, IT can quickly identify and configure device groups.
As workplaces reopen, the use of shared office equipment like meeting room booking panels are inevitable but, IAdeaCare's new remote room management features like maintenance mode and screen on/off keeps the surface-to-surface transfer of viruses to a minimum. IAdeaCare maintenance mode enables management to display a custom screen during scheduled device update periods to announce a temporary decommissioning of the room panel. For minimizing room panel usage during breaks and non-office hours, management can schedule a screen on/off period, which also helps to save energy and prolong the panel lifespan.
IAdeaCare's new enhanced device security feature enables auto-rotation of local passwords and prohibits changes to playlist and device through external connections. Remote management and IT teams can manage with more hair on their heads when device passwords and data are safe against unauthorized access and harmful operations.
Contact IAdea today at www.IAdea.com/contact-us/ or visit //www.iadea.com/products/iadeacare/ for more product information.
About IAdea
Founded in 2000, IAdea is an award-winning leader in enterprise-grade digital signage systems with products ranging from room management panels, desk booking devices, signage players, to device management software.
IAdea currently powers 500,000 displays globally with the majority of deployments in corporate workplaces, public transit, and retail applications. System integrators and enterprise users rely on IAdea's robust and secure joint solution to increase operational productivity and improve user experience.
Source: Digital Signage Today