Test Out IAdea-Certified Meeting Room Solutions Before Settling Down with Your Perfect Match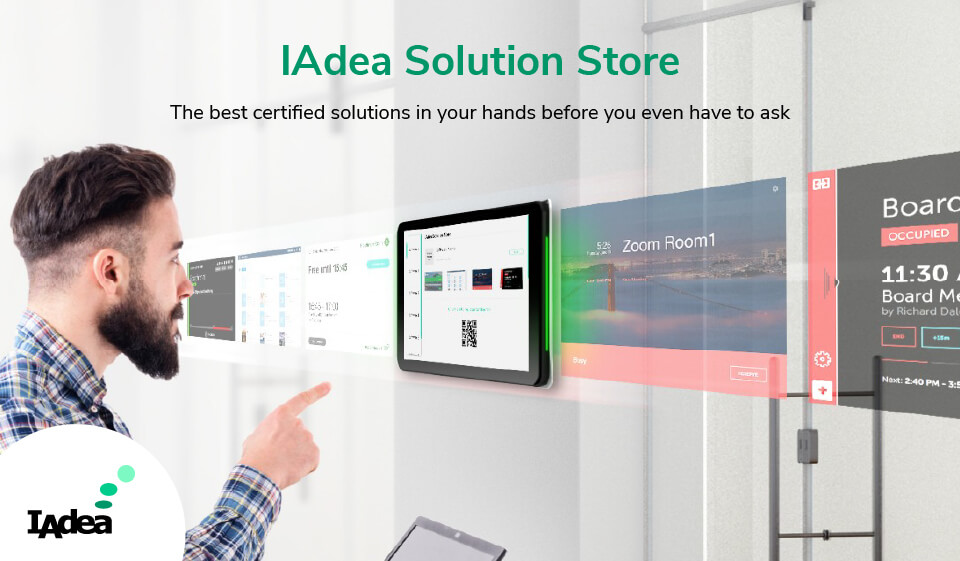 IAdea is excited to introduce IAdea Solution Store, an innovation in the smart workplace solution which enables meeting room panel distributors to offer a range of preloaded, IAdea-certified solutions directly into the hands of their customers. Distributors can elevate their service value with this single-point access platform as users have immediate access to in-depth overviews and support information on each certified software and download trial.
Every workplace is unique and has different sets of meeting room management requirements. Meeting room panel distributors can enrich their customers' decision-making process by providing them the flexibility to explore a selection of certified meeting room software, enabling them to gain first-hand insight on software compatibility and impact on workplace productivity. For further solution inquiries, customers have direct access to the contact window of each solution provider to streamline customer service.
Meeting room panel distributors can rely on IAdea for providing certified meeting room management solutions that have been tested and retested to work with all features and functionalities of the IAdea panels. The rigorous certification and maintenance process ensures each customer is delivered an efficient, productive, and enjoyable experience every time they use their meeting room panels. IAdea distributors and customers can have peace in mind on the quality and standard of every solution listed in the Solution Store.
IAdea meeting room panels offer customers the convenience of testing a range of certified meeting room solutions in their offices before committing to a solution. During the exploration phase, customers are saving money, time, and resources on tedious tasks such as searching for accredited meeting room management solutions, back and forth with the solution provider on technical inquiries, and installing, uninstalling, then, reinstalling solutions. The advantage of test driving certified solutions is allowing customers to quickly integrate compatible solutions without disrupting their offices and staff operations.
IAdea has invited Appspace, Pronestor, Concierge, Space Connect, YAROOMS, and oomnis, leading room management solution providers, to feature their software on IAdea Solution Store. IAdea continues to look for new high-quality partners to provide more room management solutions to IAdea meeting room panel users.
"IAdea is excited to introduce the Solution Store, a service available on applicable IAdea devices to streamline the solution discovery process for our customers. Users can now conveniently scroll through a list of select software partners recommended by IAdea for use with the device, and simply pick one to try out," states John Wang, CEO of IAdea. "This service significantly streamlines the distribution process for IAdea products. We expect it to drive up user satisfaction for IAdea devices, as we make it extremely easy for customers to find the best software for addressing their needs."
For more information on IAdea Solution Store, visit www.IAdea.com/products/solution-store/
About IAdea
Founded in 2000, IAdea is an award-winning leader in enterprise-grade digital signage systems. IAdea's products include media players, all-in-one smart signboards, infinite video wall technology and device management software. With a strong Research and Development team in-house, IAdea's trusted solutions have been deployed throughout corporate workplace, public transit and retail, powering more than 300,000 digital displays on a global scale. As an industry-leading advocate of digital signage open platform, IAdea works tirelessly to ensure devices are seamlessly integrated with third-party software providers on the market, offering system integrators from all vertical markets proven robustness and lowered total cost of ownership (TCO). With offices worldwide, IAdea provides uninterrupted customer service across the world. For more information, visit www.IAdea.com.
Source: Digital Signage Today