Say Goodbye to Long-Distance: SignApps Express Offers Remote Content Distribution to All In-Service IAdea Devices
SignApps Express, IAdea's dummy-proof content management utility just got an upgrade!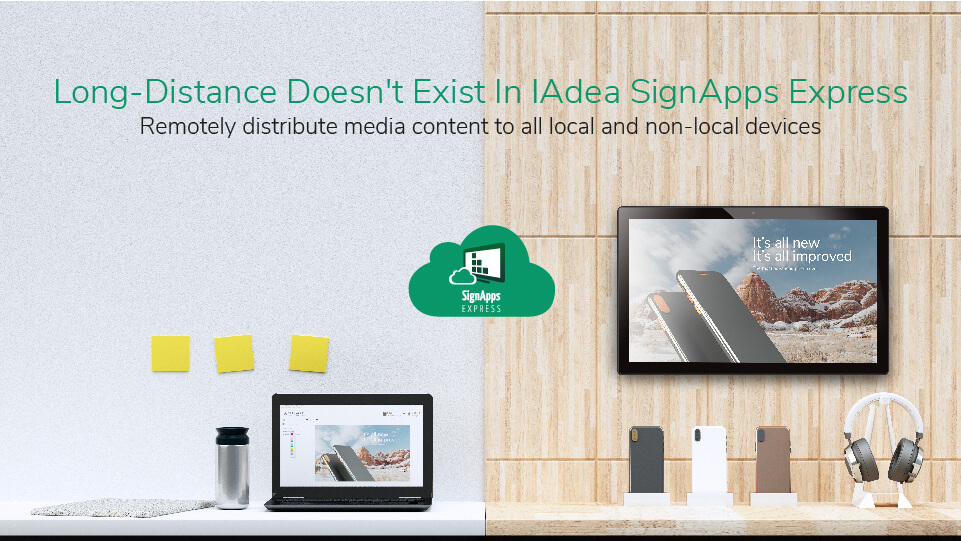 SignApps Express, IAdea's dummy-proof content management utility just got an upgrade! Every beginner can leverage this flexible tool to produce engaging media content using PowerPoint, common video, image, and audio formats, widgets, tickers, and URL. With the cloud option, users can create unique media content using the user-intuitive layout editor and remotely push content to all local and non-local IAdea devices simultaneously. 
Retail store managers can conveniently push engaging brand-related media content to promote showcases across multiple stores, all from the comfort of their office. Built with a high-definition resolution, wide-view angle panel, and stereo speakers, IAdea XDS-2285 offers retailers the advantage of creating unique in-store browsing, shopping, and branding experience. 
This bundled solution is also a time-saving tool for schools and campuses to deploy institution-wide digital bulletin boards. The administration and teachers can quickly and remotely publish important information such as assembly timetables, emergency drill instructions, and messages from the head office to its student body with a simple upload of a PowerPoint file. For a larger visual experience, SignApps Express is also compatible with the IAdea True 4K media player (XMP-7300) to bring high-definition media that serves the masses.
For a limited time only, IAdea offering a free three-month trial for SignApps Express: Cloud. Contact IAdea Sales or IAdea distributors today to find out how to start your trial!
Source: Digital Signage Today