The Future of the Sustainable Workplace:
Remixed Layouts for Turbocharged Collaboration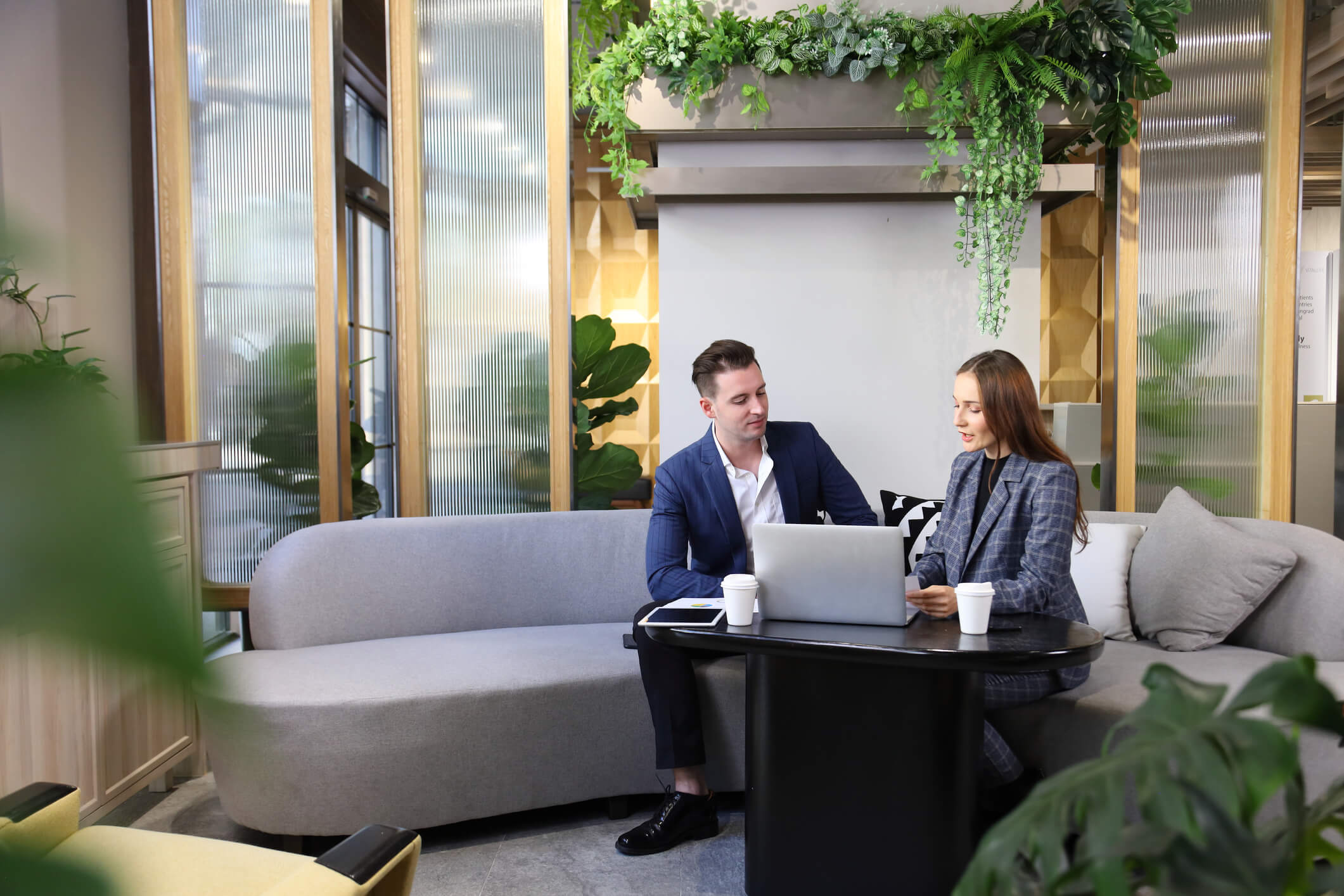 The core purpose of the workplace has shifted. Organizations need to do a  lot more to entice employees back to the workplace in a way that is not only safe, healthy, and engaging but also highly sustainable.
Workplace Experiences: rolling out space planning strategies for the new now
"How has COVID changed our views on sustainability?" posed John C. Wang, CEO and Co-founder, IAdea. "Prior to the pandemic, we believed sustainability was renewable energy, reducing waste, reusing material, and so on. But now, the fundamental problem is we don't know how many people are using our space. If we leave our spaces as they were, without adapting things such as we're already wasting a lot more energy than we could have saved by switching to renewable sources." Hybrid working is here to stay, and as such, workplace occupancy is going to change. In the fight for sustainability, we cannot afford to stay static.
The workplace is never going to look the same again. So what experience do employees expect when they come back to the workplace and how can they be enticed to do so? "The most important metric you need to plan for is occupancy," commented Darlene Pope, President, North America at Planon. "You have to understand how your space is being used, who's using it and where they are at any given time." This in turn is going to drive most of the environmental sustainability metrics such as CO2 levels and indoor air quality that facility managers will be focused on as they strive for a safer and more sustainable workplace that embraces hybrid working. As such, occupancy is intrinsically connected with the workplace experience because it dictates how the environment responds to the fluctuations in the number of people.
Balancing sustainability with workplace experience
"We need to ask how technology can support environmental and experience goals, as well as ESG metrics as they become increasingly important for organizations that believe in sustainability and realize its business value," explained Pope. "Office buildings themselves don't use energy. Rather, people do. Therefore, it is critical to understand occupancy on a real-time basis. What we saw during the pandemic was buildings still running based on a time clock. Vacant buildings were being operated as if they were fully occupied. A tremendous amount of energy was wasted because we didn't have the ability to detect whether people were in the space and run the building based on that information."
The star of the show is occupancy data — which can be fed directly into a BMS systems — to better manage how energy is being used to contribute to reduced energy and a smaller carbon footprint. This also directly affects the workplace experience for employees. What employees are looking for when they come back to work is a healthy environment. How you manage systems — such as those that maintain high standards of air quality — is influenced by the amount of people in the space. They need good air quality and filtration, but they also want to feel safe and comfortable. The design and experience of new flexible workspaces is completely different to what we are used to. Furthermore, each organization has its own return-to-office strategy, whether it be 40, 60, or even 100% occupancy. Thus, the right tools and technology are needed to support each unique strategy, understand occupancy, and guide how space is being refitted for this new normal.
Sustainability: Rightsizing the workspace in hybrid working environments
As technology becomes more entwined with the workplace, it can bring bigger questions to light, like whether it is time to rightsize the workplace. Spaces are being designed completely differently due to hybrid working. "We used to design offices for about 150 to 200 square feet per person. But now workplaces are being designed for as little as 50 to 60 per person," expressed Pope. "We've also seen recent studies regarding people returning to work that it used to be 0.8 people per desk. We're now seeing 1.8 people per desk. We are designing spaces completely differently based on occupancy trends and the predictions we see of people coming back to work."
When looking at sustainability in the workplace and supporting your ESG strategy along the way, it is the behind-the-scenes technology that will help FMs achieve their goals. First, it is necessary to collect and assess data to better understand the use of space. Only then can it be utilized to set a new strategy that better meets the needs of people and to start improving. Now is a pertinent time to establish a baseline as organizations are faced with the challenge of vacant workplaces. Sensors and platforms can help FMs do just that, as once initiatives are rolled out, there is a benchmark to compare them to., Otherwise, there is no way to evaluate change. With that, the success of initiatives can be accurately reported, and a mindset established of continuous improvement and optimization of facilities.
"The flexibility of the space also needs to be enhanced. Currently we don't necessarily know how many employees are going to be in the office at any given time," commented Wang." All of that needs to be dynamic to drive energy optimization and the minimization of carbon footprints." But that alone is not enough; the sustainable workplace comprises four key pillars as laid out below: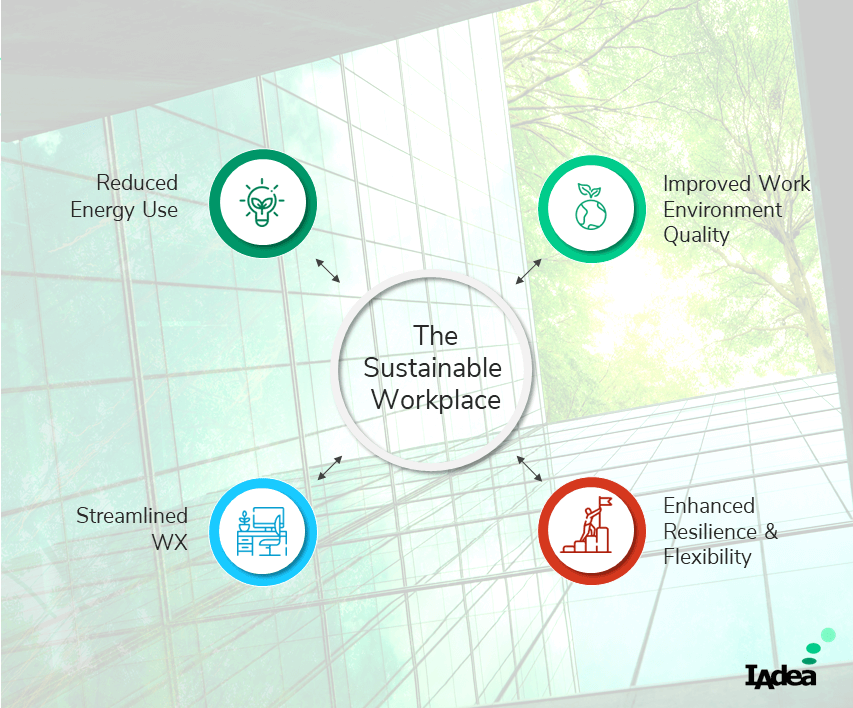 With flexibility at the core of the sustainable workplace, as we forge ahead, it offers leeway for whatever potential disruptions or unexpected events that come next.

Managing the Agile Workspace: lessons learned from global deployments
"IoT is something that organizations haven't embraced the full power of yet," explained Pope. "It allows the ability to get data from any device, location or person that you want to get information from to help you drive business goals." When examining the end-to-end value chain of buildings — everything from design, to building, to operation — IoT is critical for assessing the entire lifecycle and ecosystem, and checking whether targets are being met.
"The biggest benefit of IoT is the ability to collect data and create digital twins," said Pope. " A digital twin gives us the ability to run various scenarios within the building, whether it is predicting occupancy, predicting energy use and carbon footprints based on occupancy, or scenario planning in terms of how many people are in the space and what it means for energy consumption and quality." Using that digital twin and the data extracted from it, it helps FMs plan, improve and optimize their portfolios over time.
A matter of consistency
In larger IoT deployments, teething problems are par for the course. "When the goal is to give employees the flexibility to really work in any space at any time of their choosing, you need to provide a consistent experience. Having an employee learn a new system every time they visit a different field office is not acceptable," hazarded Wang. "Many companies take an ad hoc approach, with each location trying their own thing and seeing what works. When it isn't unified in time, the systems become too big and integration becomes a huge effort." Without full integration, you can never have a truly unified and seamless experience. Projects must be made with scalability in mind.
Furthermore, there is a misbelief that consumer-grade technology is suitable in a professional setting. Reflecting on a project with a global professional services firm, Wang observed, "They started using consumer grade tech, and quickly ran into big problems." Devices were predominantly battery powered, generating a huge amount of waste. Upon learning this lesson, the firm moved onto sourcing devices with Power over Ethernet (PoE) support that are the standard for an enterprise setting, while also being more environmentally sustainable.
"The first step is to sit down and define what your sustainability goals are. But as you define those goals, the saying goes, you can't manage it if you can't measure it. When defining your sustainability goals, you also have to have a baseline of where you are currently against those goals," explained Pope. "The first step is sitting down to determine what the goals are, what data you have to be able to baseline those goals, and how are you going to track and report against progress going forward?
"Technology can help you through all those stages of that sustainability journey. It can contribute to how the building is used, how you condition the building, every single component of that conversation is supported by technology. Looking at the role of the facilities manager, they're responsible for making sure that all ESG metrics tied to the performance of buildings are met. So, it's very important position for FMS to know wat the metrics are, understand corporate goals and understand how they're in a position to impact them."