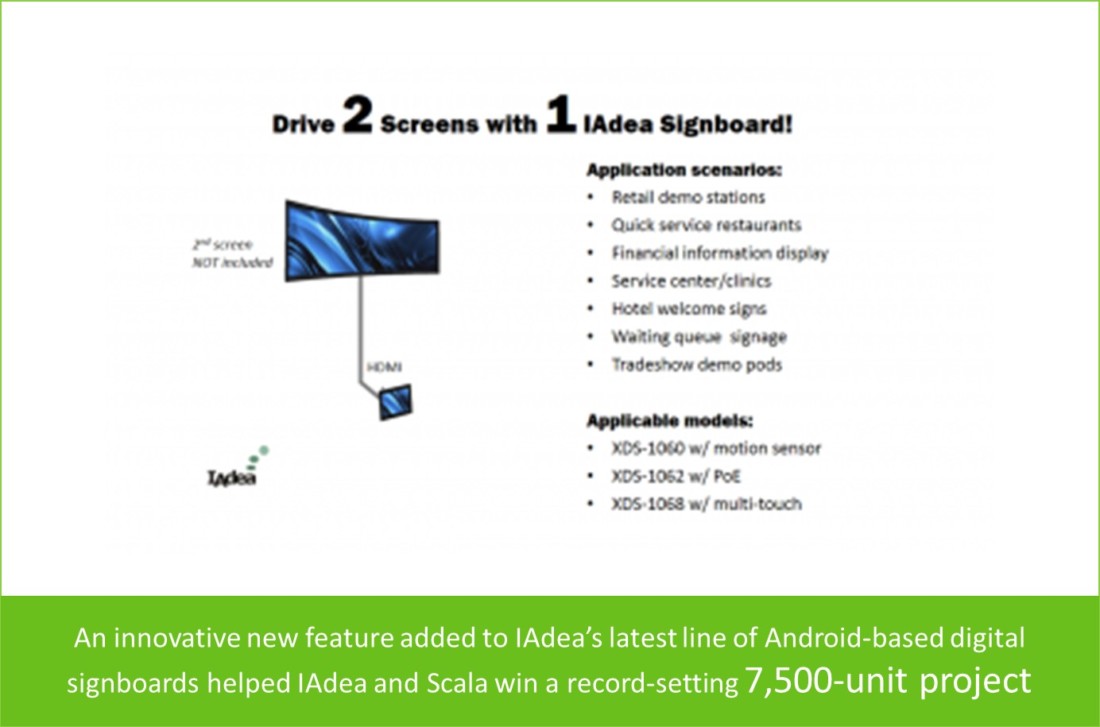 Irvine, CA. and Exton, PA. (February 3, 2014) – An innovative new feature added to IAdea's latest line of Android-based digital signboards helped IAdea and Scala win a record-setting 7,500-unit project. The solution will be demonstrated at Scala's booth K182 in Hall 8 at the Integrated Systems Europe show, Feb 4-6 at Amsterdam, and at booth #736 at the Digital Signage Expo, Feb 12-13, Sands Expo, Las Vegas.
IAdea is adding to its Android-based digital signboards the ability to drive two displays simultaneously. While the built-in 10-inch LCD panel plays back content, a duplicate copy of the content is played via the device's built-in HDMI connector to a second display. This feature is particularly useful for point-of-sale and shelf-edge merchandise promotion, event showcase, and waiting queue applications where two screens help serve viewers both up-close and standing afar. The solution is also a cost-saver by effectively halving the hardware and license cost per screen.
The new feature works with Scala Enterprise 10.2. Customers using the XDS-1060, XDS-1062, XDS-1068 models will receive this new feature after the new software is released through firmware upgrade, which is managed by the Scala Enterprise software.
"We appreciate the close partnership with Scala through the years, and this project proves that Scala's investment in the IAdea platform is visionary and wise," said Rex Chen, Executive Vice President of IAdea. "IAdea leads the market in pushing the capability of the Android platform to meet demands of the digital signage market. Our success is defined by the mutual benefit we and our partners bring to each other. We strive to provide the best platform which our partners can trust and where they can truly shine."
"Scala is enthusiastic about working with IAdea to deliver a solution on their innovative and stable Android platform," said Tom Nix, CEO of Scala. "IAdea and Scala are long time successful partners and have started off 2014 by winning an impressive 7,500-unit project. We look forward to continued success with such great industry hardware leaders."
Visit IAdea and Scala's joint shows at the upcoming ISE and DSE events for a live demonstration. Register at www.IAdea.com/contact-us for meeting arrangements.
About IAdea
IAdea helps re-invent 100,000+ locations including retail, restaurant, corporate, and education with dynamic display technology. It focuses on the development of cutting-edge commercial-grade digital signage players and integrated displays. IAdea powers many large-scale digital signage projects, offering proven robustness and lowered total cost of ownership (TCO). Founded in 2000 with offices worldwide, IAdea provides uninterrupted product service throughout the globe. Visit www.IAdea.com
About Scala
Scala has a passion for creating intelligent digital signage solutions that move consumers, employees and products. Driving more than 500,000 screens worldwide, Scala solutions increase sales, improve brand loyalty, optimize the customer experience, and reinforce business objectives. Scala is headquartered near Philadelphia, Pa., with multiple subsidiaries across Europe and Asia, and over 500 partners in more than 90 countries. www.scala.com