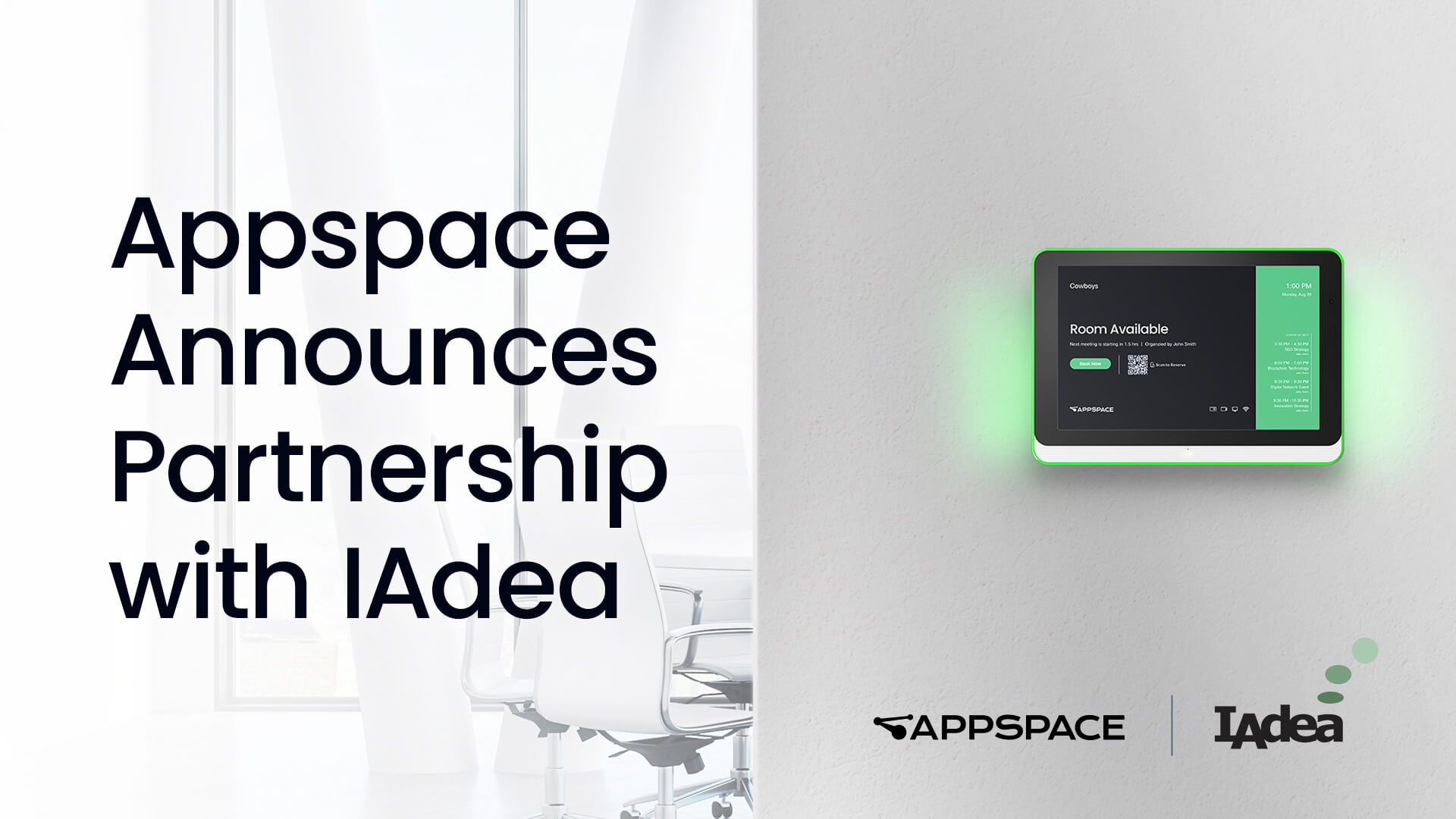 Now self-certified to support Appspace solutions, IAdea devices help organizations better connect their people, places, and spaces in hybrid, remote, and in person
Smart office tech leader IAdea and Appspace, the first unified workplace experience platform, today announced a partnership to help organizations optimize their workspace management and corporate communication strategies.
Appspace's workplace experience platform includes space reservation, wayfinding, visitor management, a modern intranet, and more. The company was built around its unparalleled digital signage experience and product-rich features, making the IAdea partnership a strong fit.
With this collaboration, Appspace will run on IAdea's enterprise-grade devices, including its all-in-one displays and room panels. These solutions provide workspace managers with powerful tools and insights to better understand how to maximize their workspaces, automate processes and build strong corporate brands.
"This partnership allows us to better serve the needs of enterprise customers who need greater control over the workspaces they manage," expressed John C. Wang, CEO & Co-founder, IAdea Corporation. "As the digital transformation of the workplace continues at a break-neck pace, our enterprise-grade hardware combined with Appspace's innovative software offers a dynamic and lean solution for enterprises to take their space management to the next level."
IAdea's hardware comes preloaded with Appspace, which also enables speedy deployments in the most secure environments.
"Evaluating and managing various technology solutions for workplace communications and workplace management can be time-consuming," said Paul Alley, Director, Technology Partnerships & Alliances, Appspace. "But, It doesn't have to be that way. With IAdea's devices now supporting Appspace, we remove all the complexities associated with modernizing the workplace — from digital signage to space reservation  —  so IT teams can focus on employee engagement, not managing multiple point solutions."
About IAdea
Founded in 2000, IAdea is an award-winning leader in enterprise-grade digital signage systems with products ranging from room management panels, desk booking devices, signage players, to device management software. IAdea currently powers 800,000 displays globally with the majority of deployments in corporate workplaces, public transit, and retail applications. System integrators and enterprise users rely on IAdea's robust and secure joint solution to increase operational productivity and improve user experience.
About Appspace
Appspace is the workplace experience platform for communications and workplace management. It's the first to combine a modern intranet (powered by Beezy), space reservation, digital signage, and more – all in a single, easy-to-use platform. Now organizations can replace siloed products that are costly to integrate and unite their physical and digital workplace. More than 150 Fortune 500 companies, and 10 million on-site, remote, and frontline employees, are using Appspace to make work a more connected and engaging experience.
Learn more at www.appspace.com.