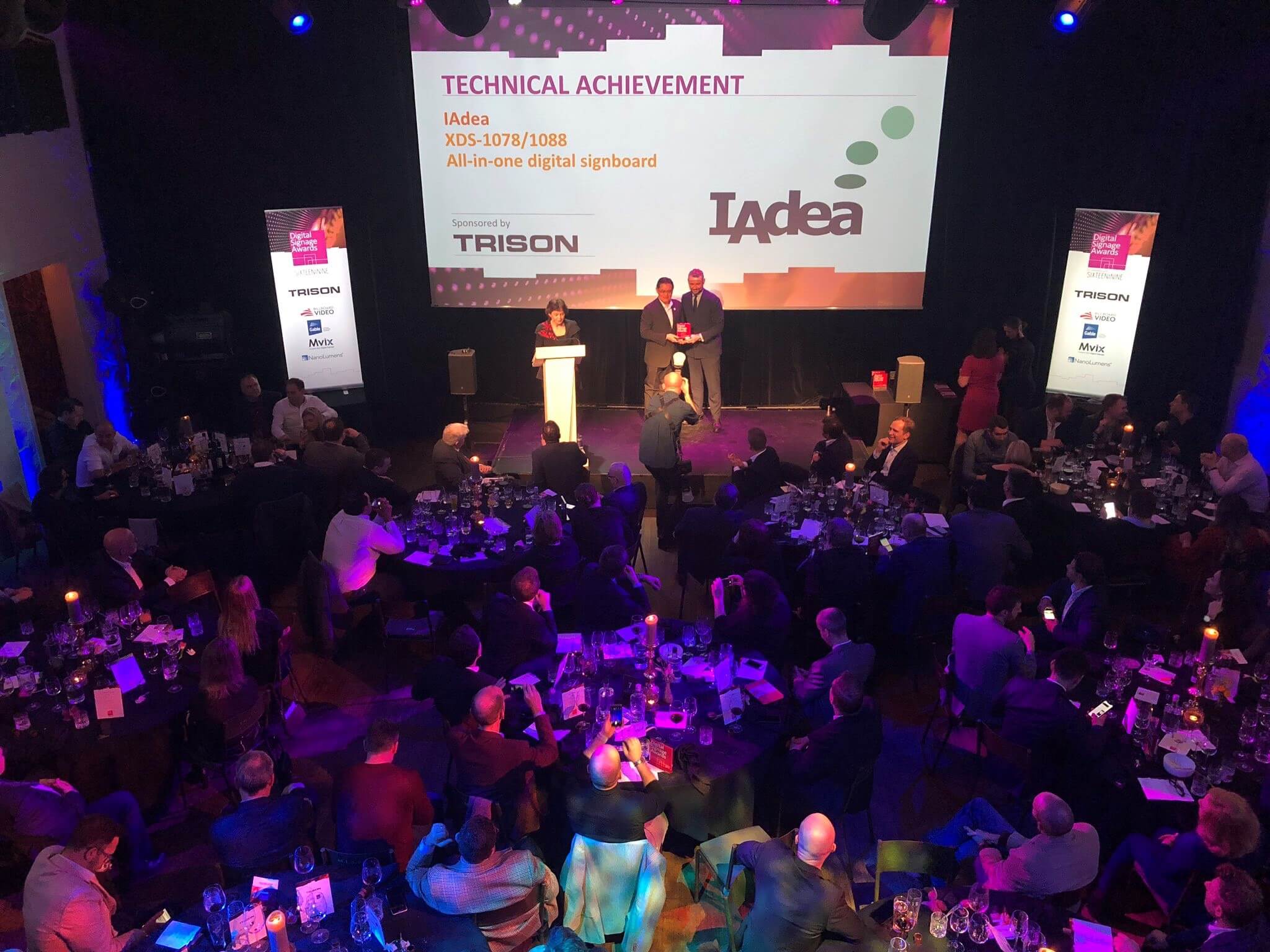 10-Inch, All-In-One Smart Signboard Model (XDS-1078/1088) with Touch
TAIPEI, Taiwan; IRVINE, U.S.A., February 19, 2019 – IAdea, a leader in enterprise-grade digital signage platforms, has been named the winner of this year's Digital Signage Awards – Technical Achievement. Digital Signage Awards, in association with Sixteen:Nine, is an independent, industry-wide recognition of the world's best digital signage projects, creativity, content, innovations and technology.
IAdea has capitalized on the growing digital room management signage opportunities in various market segments, such as corporate offices, post-secondary campuses, conference facilities, banquet halls and many more. End-customers from these market segments are shifting from consumer-grade tablets to enterprise-grade signboards. The 10-inch, all-in-one flagship signboard (XDS-1078/1088) from IAdea is the centerpiece of the project endorsed by Digital Signage Awards. The IAdea XDS-1078/1088 combines: 10-inch high-brightness touch screen, built-in zero-gap wall mount, Power-over-Ethernet for friendly installation, RFID/NFC reader for personal ID, and a ruggedized version of Google Android that works perfectly with Samsung MagicINFO, EMS by Accurent, and many more enterprise digital signage software.
Each year, Digital Signage Awards entrants span the spectrum, from some of the most innovative start-ups to the most recognizable global brands. Dave Haynes, Founding Editor of Sixteen:Nine said, "The Finalists came from an impressive list of creative agencies, content providers, manufacturers, installers, networks and start up companies. Over 26 countries were represented in this year's entries – a record for the Awards."
"As corporations struggle to land on versatile, open-platform room management systems, we are proud to offer a solution that not only simplifies the process, enhances security but also integrates seamlessly with many third-party software programs," said John C. Wang, CEO, IAdea. "Winning this award is a testament to our company's growth and innovation. We are excited to continue our work with Fortune 500 companies across a wide range of sectors to enable them to focus on what matters the most by optimizing the utilization of their facilities."
IAdea was also a winner of Digital Signage Awards 2018. CEO John C. Wang was recipient of the Outstanding Individual award.
Other awards recently granted to IAdea include Digi Award for AnyTiles video wall content controller engine and 20 Most Promising Digital Signage Solution Providers according to CIO Review.
For a full range of IAdea solution portfolio, visit www.IAdea.com.
###
About IAdea
Founded in 2000, IAdea is an award-winning leader in enterprise-grade digital signage systems. IAdea's products include media players, all-in-one smart signboards, infinite video wall technology, and device management software. With a strong Research and Development team in-house, IAdea's trusted solutions have been deployed throughout corporate workplace, public transit and retail, powering more than 300,000 digital displays on a global scale.
As an industry-leading advocate of digital signage open platform, IAdea works tirelessly to ensure devices are seamlessly integrated with third-party software providers on the market, offering system integrators from all vertical markets proven robustness and lowered total cost of ownership (TCO). With offices worldwide, IAdea provides uninterrupted customer service across the world. For more information, visit www.IAdea.com.