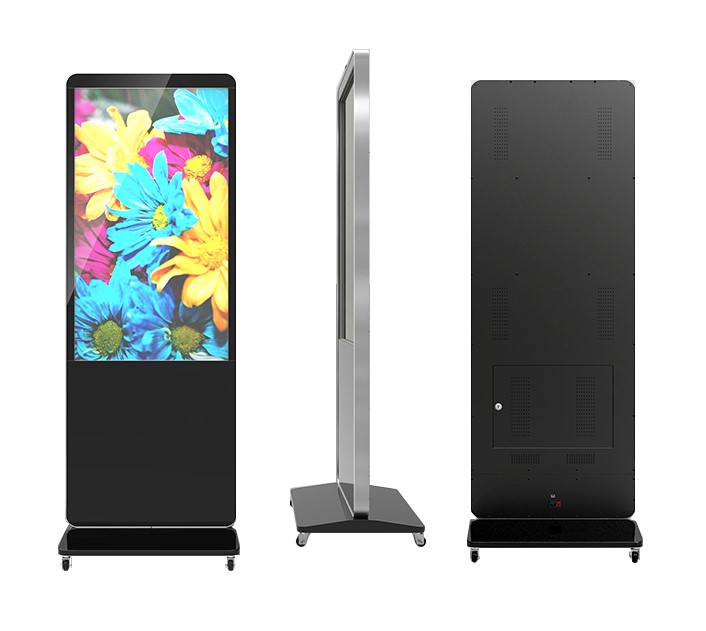 Foxconn Electronics (Hon Hai Precision) is one of the most powerful corporations in the world, also known as the manufacturer of iPhones. InFocus is part of the Foxconn Group, primarily known as its smartphone business. However, InFocus is more than just smartphones, having leveraged the highly optimized, integrated resources available at Foxconn. Aside from smartphones, InFocus offers smart boards for educational, in-class applications, video walls, LED displays, smart TVs and now digital signage, thanks to this fast-growing market. Since IAdea began to solidify its strong position as the high-quality, high-performance media appliance provider, InFocus Display business unit naturally became an esteemed partner for the professional-grade public display segment.
InFocus FDS50B is the IAdea's first joint effort with InFocus to target professional digital signage. Fond of the diverse nature of business dynamics in Taiwan, both see great potential in digital advertising and anticipates significant growth on this island, particularly among the small to medium enterprises. However, overly budget-conscious business owners run the risk of missing out highly affordable and equally high-performing digital signage solutions available out there, until InFocus and IAdea come along. InFocus FDS50B is an all-in-one digital signage stand offering the easiest, the simplest usage on the market for any users – practically 100% dummy proof and no product knowledge required. Just think of it as operating on a today's smart device!
"IAdea is an award-winning, and well-known solution provider in the digital signage industry, with millions of deployments around the globe. That's why IAdea was our first choice of a partner when product planning was underway." says Mayo Cheng, Consumer & Computer Product Business, InFocus. "In this fast-growing digital signage business, no one size that fits all, as customizations are constantly in demand. Not only IAdea is known for the lowest RMA rate in the industry, we've also been highly satisfied with the willingness to customize quickly, while maintaining the greatest quality, in addition to strong after-sale support."
IAdea has been known for its "simply brilliant" product portfolio, meaning each product is simple-to-use and brilliantly engineered for its ultimate excellence. Mayo from InFocus agrees, "Finally, a simple and easy-to-use solution for digital signage!" The user-friendliness will benefit all end-customers installing the products in their shops, whether it's at restaurants or retail stores, movie theaters or shopping malls, hotel lobbies or electronic stores.
Deployments in Taiwan are just the beginning. InFocus FDS50B is a solution-ready product offering, with plans to expand portfolios to the rest of Asia and eventually other parts of the world in progress.
Overview
Industry: Retail & Corporate Communications
Channel: Costco Taiwan of 12 physical locations, online shopping platforms
Reasons for deployment: InFocus to tap into Taiwan's small to medium enterprises seeking affordable and user-friendly digital advertising tools, in which staff members can easily upload advertising images and videos without technical assistance
Solution
IAdea providing the digital signage solution kit (hardware + firmware)
IAdea taking ownership of system integration with InFocus 50 inch LED display
Customized software interface fulfilling InFocus requirement
Customer interaction functionality built-in including audio/Wi-Fi connection/touch/media player control/content scheduling, while running the device around-the-clock
Challenges
Built to order customization upon request of InFocus
Modifications on signage software interface within a tight deadline
User Interface design from the point of view of in-store staff members and end-users
Lowest failure rate in the industry to be maintained for Costco to successfully push B2B products through their physical as well as online channels
User Results
Orders from Costco exceeding the original forecast of InFocus
Digital advertising becoming commonly adopted in small to medium shops, restaurants and retail chains
Higher recognition and market share of Taiwanese brands in the digital signage business as the result of a successful collaboration between IAdea and InFocus