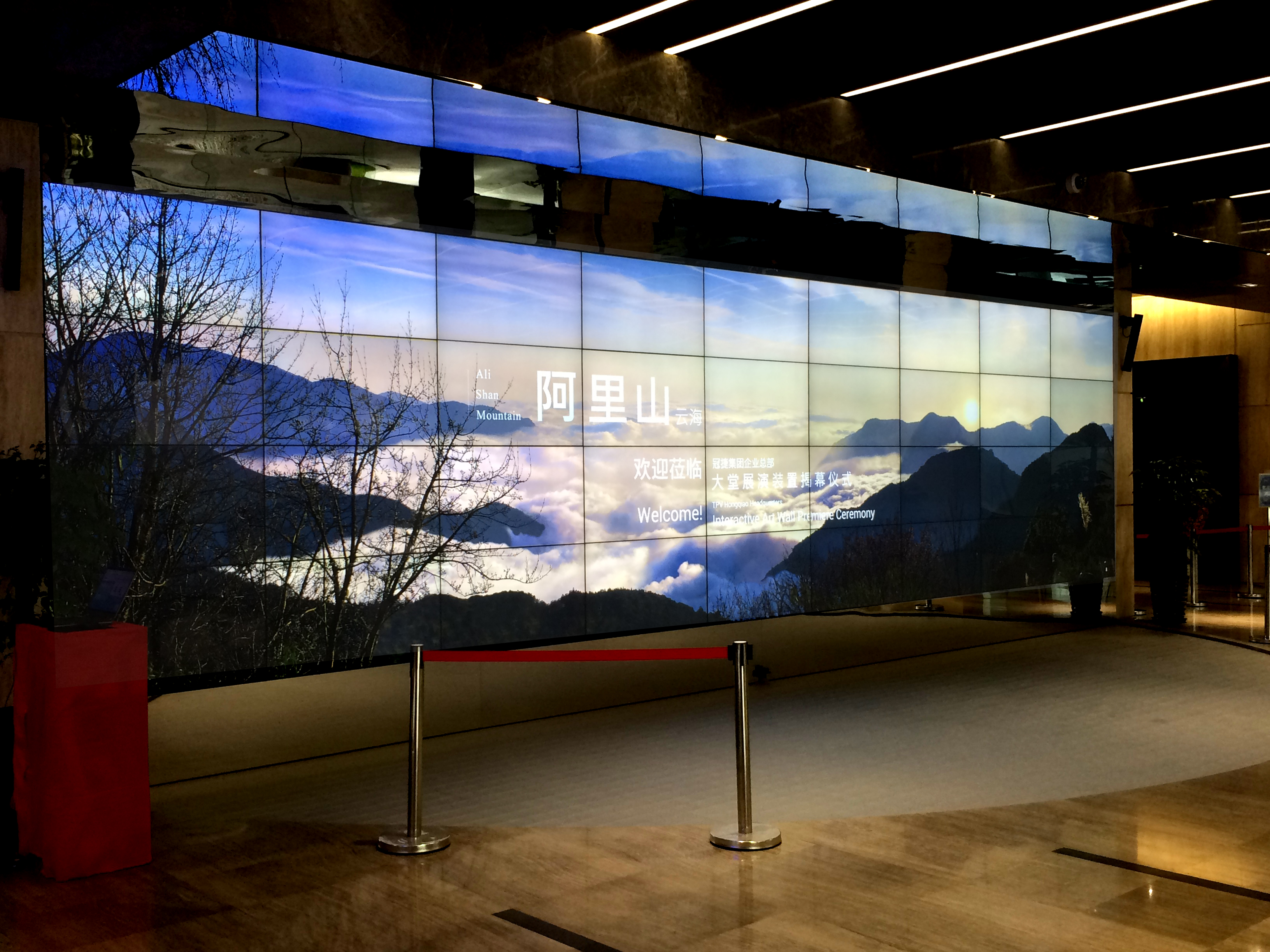 Irvine, California, USA and Taipei, Taiwan. March 16, 2016 – IAdea, the leader in providing innovative digital signage platforms, announces that its innovative AnyTiles™ video wall solution is now powering a 10-meter-wide video wall at the Shanghai Hongqiao Commercial Business District (CBD) which delivers informative and interactive contents at 18K resolution across 36 super-narrow bezel displays. The CBD is designed to become the "New Manhattan" of China, according to its official promotional video.
AnyTiles™ is DGA-compatible and works by weaving a large number of independent, off-the-shelf graphics hardware into one large, coordinated display fabric, similar to Hadoop computing architecture adopting a large number of standard computers to form unlimited computing clouds. As Hadoop begins to power software solutions from Google, Facebook, SAP and IBM for more affordable and scalable data crunching, IAdea is commercializing DGA with its AnyTiles™ video wall system with ongoing developments around the world. Shanghai's HCB district project was completed about a month ago.
AnyTiles™ delivers the following features and benefits:
Virtually unlimited in the pixel resolution as well as the number of displays that can be added to one video wall
Cross-screen frame-accurate synchronization.
Uses commodity system-on-chip parts, reducing both cost and power consumption
Built-in fault tolerance to deliver extremely high reliability
Supporting rich contents including HTML5 as well as legacy software
"Within this multi-billion digital signage sector, ultra-large video walls are gaining popularity. However, today's video wall market lacks a standardized mechanism for digital contents delivered at ultra-high resolutions and DGA is the answer to that." said John C. Wang, CEO of IAdea. "We are pleased to be selected as the heart of the engine for the most high-profile, state-of-art video walls in Shanghai. IAdea is committed to developing innovative technologies to solve new challenges posed by the emerging video wall market."
The AnyTiles™ solution is currently available on the IAdea XMP-7300 media appliance.  Contact us at www.IAdea.com for more information.