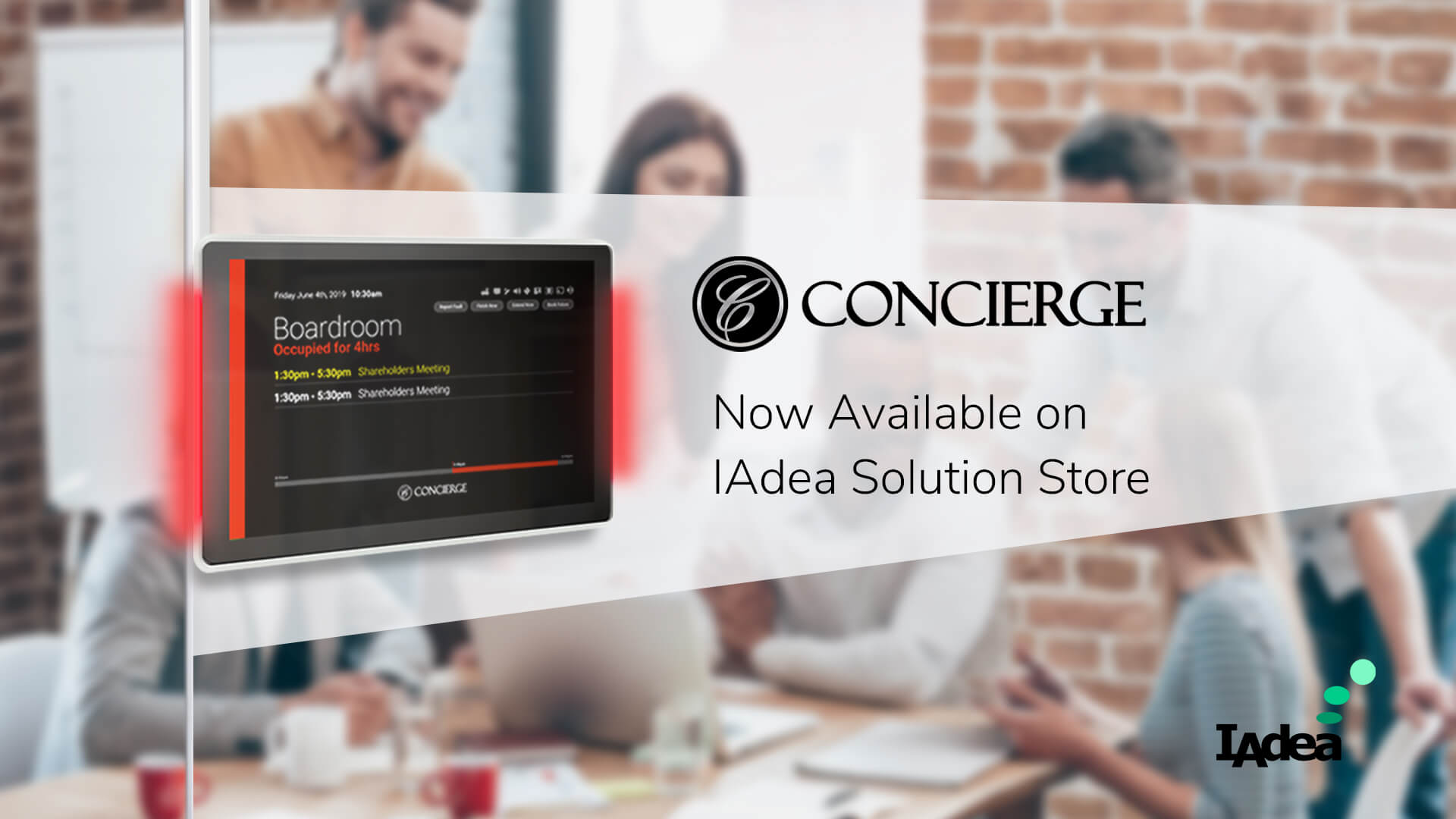 <Irvine, USA, October, 2020>
Concierge Displays plans are now available on IAdea Solution Store! With subscriptions starting at just US $9.90 per month, Concierge is a cost-effective and intelligent application that can seamlessly integrate into workplaces of any size. Try Concierge's free trial on IAdea 10" interactive room management panels.
Through the IAdea Solution Store, you have the convenience of accessing in-depth details on all the works of Concierge Displays plans such as download trial option, solution overview, screenshots, and support information. Concierge Displays is an IAdea certified meeting room management solution, which means it has been tested and retested for optimal performance with all the features and functionalities on IAdea 10" interactive room management panels. Deploying and transforming your workplace with Concierge Displays has never been this easy!
The innovative and flexible application is the solution to the visualization of meeting room information and bookings. Concierge helps optimize workspaces and minimize meeting room wastage. Make your meetings run smoother by removing the friction and complexity of meeting room scheduling. The software can be easily integrated into all leading existing calendar systems including Office 365, Google G Suite, Microsoft Exchange, Syllabus Plus and NFS group. Staff and visitors can report room feature faults and see all equipment available in each room at a quick glance.
The Concierge application also has a touchless QR code feature. This solution can help minimise the transmission of covid-19, which could spread through the touching of contaminated screen.  By scanning the QR code you can mirror the meeting room display on your smartphone for frictionless workflow for staff and visitors. The flexible solution is also completely customizable to your branding style.
Concierge is improving the productivity of 1000's of meeting room management systems globally. The Concierge application is found in corporate, education, hospitality, healthcare and transportation environments. Make your meetings run more efficiently with the software.
IAdea currently powers 500,000 displays globally with the majority of deployments in corporate workplaces, public transit, and retail applications. System integrators and enterprise users rely on IAdea's robust and secure joint solution to increase operational productivity and improve user experience. 
For more information on Concierge and IAdea Room Management Solution, visit www.IAdea.com/partners/concierge/
Contact Info
Concierge Displays
Jessica Speck
Sales and Marketing Coordinator
jessica@conciergedisplays.com.au
IAdea
Sabrina Tang
Marketing Manager