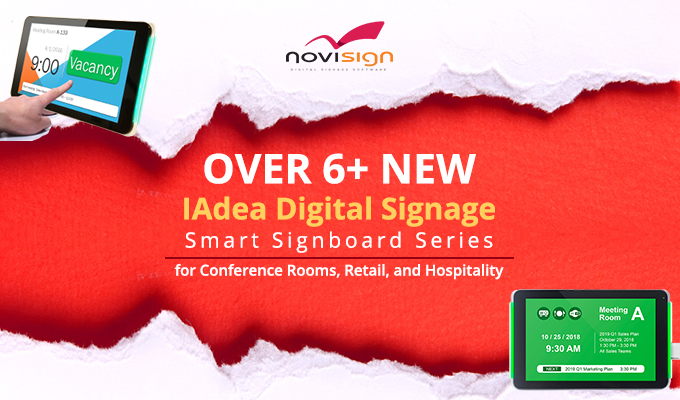 For crowded spaces that don't have much wall space or environments that need a small form factor table display check out IAdeas new fanless XDS Smart Signboard Series. IAdea's Smart Signboard series is the perfect solution for retail shelves, reception desks, and outside of conference rooms. The IAdea XDS series comes with an external antenna for amplified Wi-Fi, supports landscape or portrait, and a kickstand for convenient tabletop usage.
Popular applications include:
Meeting and conference room meeting signage

Product sales, promotions, and advertisements

Interactive informational signage

Retail shelves and point of purchase

Museum exhibition displays
About the hardware
The IAdea XDS series is specially designed for public applications. It comes with ruggedized housing, shock resistant solid state memory, 4 or 8GB of dedicated storage, and a watchdog timer the ensures the device automatically boots back up without 3rd party intervention. The screen size measures 10.1" and a high-brightness of 300-400 NITS.
Because the IAdea XDS series is Android, NoviSign's android digital signage app can be loaded for content management. From integrating Outlook for displaying real-time meeting and event listings to creating interactive retail touch screen layouts you can use NoviSign cloud-based digital signage software to design and manage IAdea's smart sign displays.

 IAdea XDS-1060 and XDS-1062
The IAdea XDS-1060 and IAdea XDS-1062 are commercial grade 10" Android displays that feature an integrated motion-sensor that can be set to trigger specific content to play we a view passes by. In addition, 6 touch buttons are included that allows for the audience to interact with the content. The units also come with StongCache the supports offline play is the network disconnects. The XDS-1062 comes uses Power over Ethernet which uses one wire for power and internet connectivity. For applications that require customization, the replaceable front bezel can easily changed.
IAdea XDS-1078
Sleek and designed beautifully for conference room applications IAdea XDS-1078 is a touchscreen, power over ethernet 10" Android display. On the outside of both sides are customizable light bars that can be set for green or red to represent room status availability. For retail or other applications, the LED light bars color can be adjusted to any color. Utilize the HDMI out for 2nd screen mirroring. Glass, flush and VESA mounting options are available.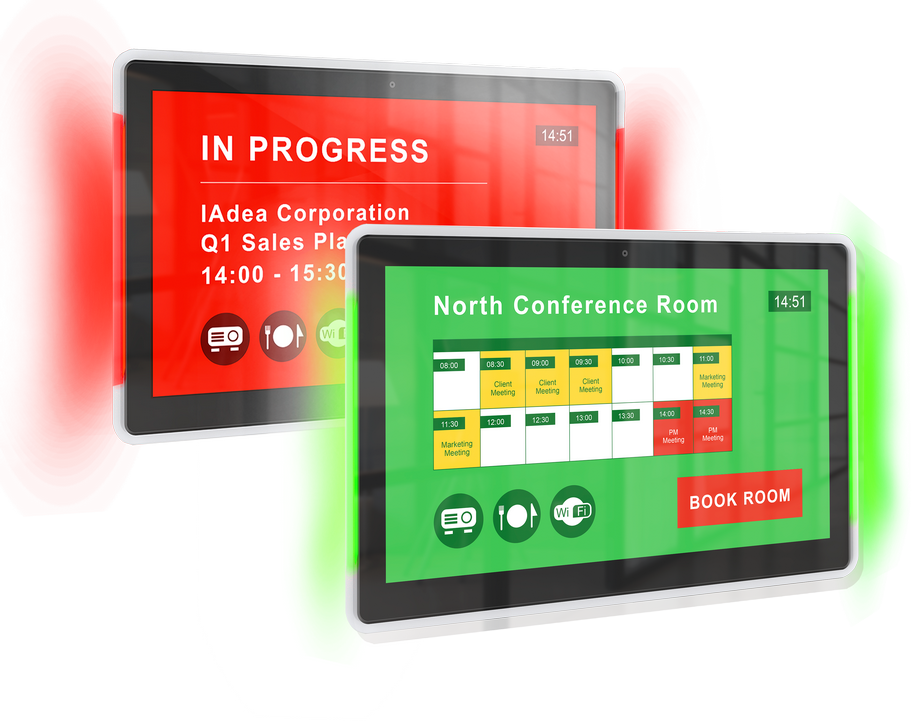 IAdea XDS-1088
The IAdea XDS-10888 is the next generation of interactive room board displays. This line comes with built-in NFC and RFID which allows for access control to conference rooms. Simply scan an employee badge to identify and grant access to rooms. For secure locations, IAdea XDS-1088 comes with built-in HID module for encryption and authentification. The device also features PoE, tempered glass, and 400 NITS for supreme brightness. If you need larger sizes check out the IAdea XDS-1588 a 15" display and the IAdea XDS-2288 a 22" option is also available.
Conclusion
IAdea's line up of smart signboards are some of the best designed small form displays available in the market today. Known for their reliability and robust operating specs, IAdea's all-in-one smart boards are the perfect hardware solution for environment looking for high-quality and long-lasting hardware options. Due to the built-in Android player, IAdea devices allow for the streamlined installation of hardware while being able for the devices content to be remotely managed and controlled using NoviSign's digital signage software.
Source: //www.novisign.com/blog/android/new-iadea-digital-signage-smart-signboard-series/
###
About IAdea
Founded in 2000, IAdea is an award-winning leader in enterprise-grade digital signage systems. IAdea's products include media players, all-in-one smart signboards, infinite video wall technology, and device management software. With a strong Research and Development team in-house, IAdea's trusted solutions have been deployed throughout corporate workplace, public transit and retail, powering more than 300,000 digital displays on a global scale.
As an industry-leading advocate of digital signage open platform, IAdea works tirelessly to ensure devices are seamlessly integrated with third-party software providers on the market, offering system integrators from all vertical markets proven robustness and lowered total cost of ownership (TCO). With offices worldwide, IAdea provides uninterrupted customer service across the world. For more information, visit www.IAdea.com.